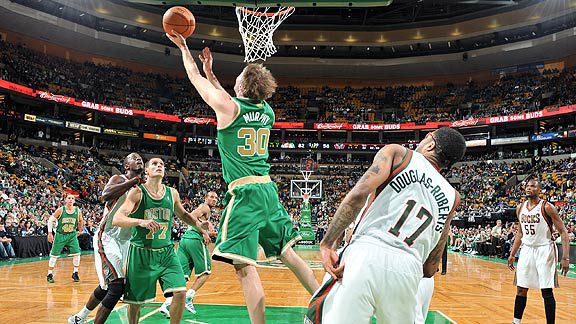 Brian Babineau/NBAE/Getty Images
The Celtics rolled the dice adding Troy Murphy (30), Sasha Pavlovic (77), and Carlos Arroyo (45).Over the next few weeks, we'll take a player-by-player look at the Celtics' 2010-11 roster and how each player's season unfolded, assigning a grade for their overall performance. This is the fifth in the series of report cards:
THE LATE-SEASON ADDITIONS
Their on-court time (and impact) was limited, so we are lumping Boston's three late-season signings together into one single report card.
Season in a paragraph: Their bench underperforming for much of the season, the Celtics felt they needed to overhaul the back end in order to aid a late-season push. With a flurry of moves at the trade deadline, including trading injured Marquis Daniels to Sacramento for a future second-round draft pick and dealing Semih Erden and Luke Harangody to Cleveland for another future second-round pick, Boston freed up enough roster space to make three additions off the buyout scrapheap. First came Murphy after the Celtics won a tug-of-war with the Miami Heat, then Pavlovic followed for depth at the wing. With both Rajon Rondo and Delonte West battling through injuries, Arroyo was added soon after.
Season highlight: If Murphy got nothing else out of this experience it was shedding the title of most experienced active NBA player without a trip to the playoffs (alas, he played only three playoff minutes). He did have a 12-point, 7-rebound effort against Milwaukee in mid-March that offered some hope that he might return to the double-double player he once was, but his play never justified a consistent increase in minutes. Arroyo handed out six assists that same night, but only handed out 19 more over 14 other appearances in Boston. Pavlovic scored three points in his Boston debut and that was a season-high in Boston until he exploded for 19 points in the regular-season finale (hitting 4-of-5 3-pointers and making everyone wonder where that had been all along). His biggest impact came in the locker room where he was good friends with midseason acquisition, Nenad Krstic.
Season lowlight: By the postseason, it was clear this trio wasn't going to have an impact. The three rotated onto the inactive list and Murphy's three minutes of scoreless ball in Game 3 versus the Knicks was the only playoff basketball for the trio. Arroyo dressed for much of the Miami series and tried to aid by deciphering their playcalls from the sideline, but never saw court time. Pavlovic lost his confidence early on and never earned Rivers' trust again.
Final grade: F
Teacher's notes: The Celtics rolled the dice that veterans would aid this team more than rookies down the stretch. It didn't work and, if you want to criticize any trade in hindsight, maybe it's the Harangody/Erden deal instead of the Kendrick Perkins one everybody seems so fixated on. Erden helped the Celtics gut through the first half of the season with injuries to most of the team's centers, including Erden himself, who battled groin and shoulder issues (the shoulder injury likely needing surgery this offseason). Yes, Erden only made four appearances in Cleveland and Harangody (6.2 points, 4.2 rebounds with the Cavs) benefited from 19 minutes per game. But at least both of those players would have been around next season to further develop. What's more, Arroyo's addition came at the expense of center Chris Johnson, a deadline-day D-League 10-day pickup who had potential to develop. You can certainly understand Boston's logic in making these moves, but they simply didn't work out.
What's next?: All three players are unrestricted free agents and it's hard to imagine any of them coming back next season. Some team is likely to overpay Murphy for the potential that he can return to the player he was with more minutes, while Arroyo might be the only player Boston would have interest in for depth at the point guard spot.
Honor roll: Click HERE to read past report cards.
Don't agree with teacher? Just want to sound off on the 2010-11 seasons for Arroyo, Murphy, and Pavlovic? Leave your thoughts in the comments section.