Colton Iverson, an unsigned 2013 second-round pick of the Boston Celtics, has signed a one-year deal to play in Spain, his agent confirmed Tuesday.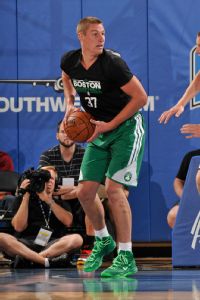 Fernando Medina/NBAE/Getty
Colton Iverson is headed to Spain next season.The Celtics bought the Indiana Pacers' draft pick to select Iverson at No. 53 last summer. He spent the 2013-14 season in Turkey and had hoped to crack Boston's roster this season. The Celtics are currently overstocked with 18 players signed for next season, making it unlikely that Iverson could sneak onto the roster for the 2014-15 campaign.
The Celtics will continue to maintain Iverson's NBA rights. The 25-year-old center spent part of the offseason working with the team in Waltham and competed with the club at summer league in Orlando. Additional moves to trim bodies might have opened a spot for Iverson, but it appears he took the security (and what's likely a healthier payday) to play overseas again.
Earlier this summer, he expressed a desire to work his way onto Boston's roster, but the roster jam will force him to wait again.
The 7-footer will play for Laboral Kutxa of the Euroleague. The team's announcement of his signing can be read (and translated) HERE.