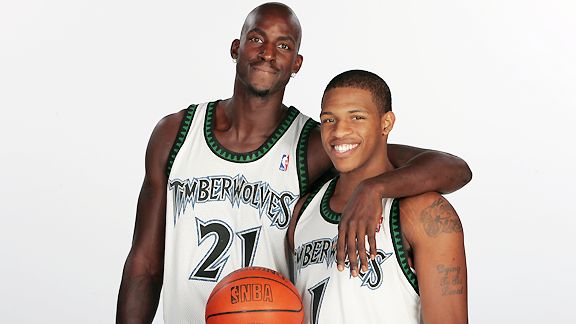 Melissa Majchrzak/NBAE/Getty Images
KG and Rashad McCants go way back.Celtics president of basketball operations Danny Ainge insists Rashad McCants is an NBA player. Kevin Garnett gives him the thumbs-up as a teammate. So could McCants find a way onto the Boston roster this fall?
McCants is one of four intriguing players Boston auditioned earlier this week, along with Adam Morrison, Cuttino Mobley and Trenton Hassell. But Ainge suggested it's been a revolving tour of NBA-caliber players and he's simply practicing due diligence as the new season approaches.
"It's just part of the evaluation process," said Ainge. "You see who's in what kind of shape and where they are at. You're evaluating players, that's all part of it."
Ainge admits he likes a lot of what he saw in working out McCants, Morrison, Mobley, and Hassell. But with training camp little more than a week away, he said, the team is still merely in evaluation mode.
"We're evaluating a lot of people," said Ainge. "Our roster is pretty darn full. We have to figure out, are the players that we have better than what's available? That's what we're doing now."
Click HERE to read the full story.