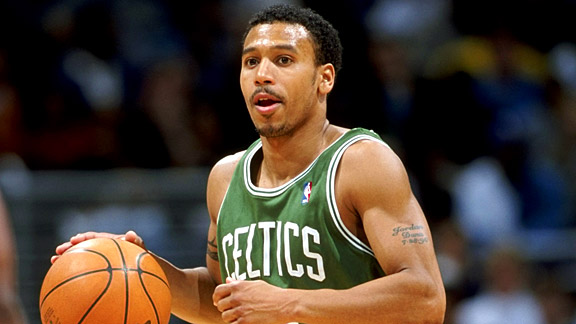 Doug Pensinger/Getty Images
Dana Barros in action during his playing days in Boston.All this week ESPN Boston will be chatting with Celtics legends, who will be discussing some of their favorite memories from their playing days, Paul Pierce's place in Celtics history, the team's aging core, and a slew of other topics. Today we check in with Dana Barros, who was born and raised in the Boston area and played for the Celtics for five seasons in the late 90's, before returning for a final game in green during the 2003-2004 season. Barros still holds an NBA record for most consecutive games with a 3-point field goal -- a streak that sits at 89 games and was extended to that mark during his time in Boston.
What's your favorite memory from your playing days in Boston?
"I would say breaking the record for most 3-pointers for games in a row. I hold the record at 89 games, but I think I broke it at 59."
Given that you're from the area, can you convey just how much Boston has meant to you?
"[I was] born here, lived here my whole life, so, man, the city of Boston has just totally rallied around me. I owe probably hundreds of people. I owe them, because they looked out for me, took care of me, protected me, kept me out of trouble. So I just give thanks to the whole city of Mattapan. They really looked out for me."
Where does Paul Pierce rank among all of the Celtic greats?
"Well I mean in this generation, I'd say he's in the conversation with the [Cedric] Maxwells and the [1980's] guys. I think he's in there. I mean, he has the one championship, but the thing that Paul brings to the table, he set his own destiny. He created with those guys, their own path, so I think he's right up there with those guys. He's probably going to be the all-time leading scorer."
Do you think the Celtics can be competitive this coming season given their continually aging core of players?
"I think right now, we're on a precipice. They have to get young guys in here this year. But if they can get two or three young guys on the perimeter, they can make another run for a year or two, definitely."
Greg Payne is a student intern for ESPNBoston.com