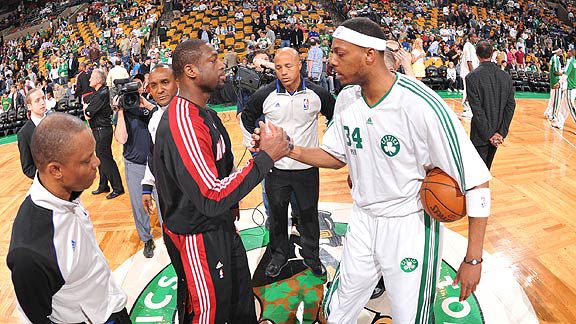 Jesse D. Garrabrant/NBAE/Getty Images
How do the Heat and Celtics stack up in the East? ESPN's experts offer their take.To look ahead at the 2010-11 NBA season and beyond, ESPN.com asked 93 of its best basketball minds for their season forecasts. Over the next three weeks, new topics will be revealed each day, starting with Monday's look at the Eastern Conference standings.

The Boston Celtics placed third in the conference (behind the Miami Heat and Orlando Magic) with a projected win-loss record of 51-31. Here's the blurb on the Green:
The C's showed the regular season means nothing to them, beating the Cavs and Magic despite starting on the road, and almost doing the same to the Lakers. So it matters little that Boston is projected to win "only" 51 games, as long as it can get KG, Perk and the other Men in Green healthy for April, May and June.
Click HERE to read the full Eastern Conference projections.
Forsberg's take: When casting my ballot, I pegged the Celtics for a few more wins, but this placement in the East seems right. In terms of win total, I think you can expect that to hop up a bit from last season, especially since it's unlikely that Boston can play as poorly as it did at home last year. The Celtics should also benefit from a soft Atlantic Division, while Miami, Orlando, and Atlanta will have to slug it out in a loaded Southeast (that includes another playoff team in Charlotte and an up-and-coming Washington squad). The Celtics can't slip any lower than fourth overall in playoff seeding, assuming the second-place finisher in another division finishes with a better record (as was the case with the Hawks last season), but the cupcake Atlantic should prevent that from being an issue again. And given how stacked the East should be next season, the Celtics will have to put an increased focus on trying for that second or third spot with hopes for extended homecourt advantage in the playoffs. As for the rest of the East, we pegged the Nets as the most improved (again, a soft Atlantic Division).