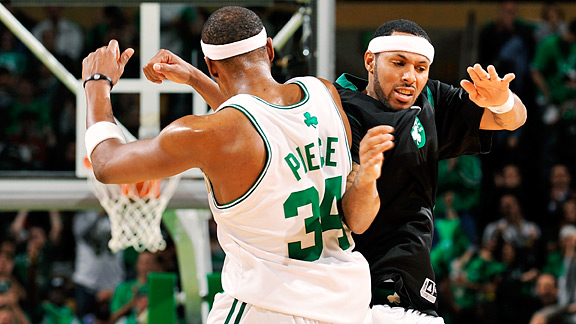 Jesse D. Garrabrant/NBAE/Getty Images
Former Celtics guard Eddie House is excited for what awaits with the Miami Heat.Eddie House told the Arizona Republic he doesn't hold a grudge against the Boston Celtics for trading him to the New York Knicks, but he hopes to make the team regret the move should the Green and House's new team -- the Miami Heat -- cross paths in the playoffs next season.
From the Republic's Dan Bickley:
Yet for House, this is somewhat personal. He's not one to carry grudges, but he's still sore at the Celtics for trading him to the rotten Knicks in February. Come playoff time, he plans on reminding them just what they're missing.

"That stung a little bit," House said. "When you feel like you're a main part of what the team is doing and you're on a mission, to get the rug pulled out from under you and get sent to a team that has no shot ... that kind of hurt."
House expressed excitement for the 2010-11 season, often comparing it to the 2007-08 campaign in Boston and the lofty expectations that came once Boston's Big Three was assembled. But he suggested it will be even bigger than that.
"I compare it to the year I went to Boston when the Big Three got together in 2007," House said. "But this is going to be even bigger. This is going to be Boston on steroids."
House signed a two-year, $2.8 million veteran's minimum deal with the Heat last month, joining Miami's newly assembled trio of LeBron James, Dwyane Wade, and Chris Bosh.
The Heat visit Boston to tip off the 2010-11 season on Oct. 26.
(h/t: NESN.com)