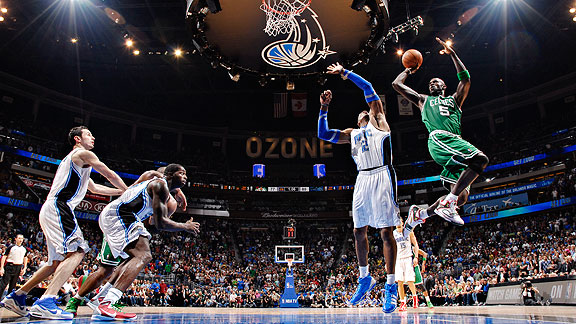 Fernando Medina/NBAE/Getty Images
The Celtics are not letting teams blow them out this season.The Celtics' eight-point loss Saturday in Orlando matched its largest margin of defeat this season (tying an eight-point loss to Cleveland on Oct. 27). In five losses this season, the Celtics' average margin of defeat is a mere 4.8 points. Boston is giving itself a chance to win every game thanks in large part to avoiding large deficits.
According to Elias Sports Bureau, the Celtics' largest deficit in any game this season was 14 points (during an 89-87 loss to Dallas on Nov. 8). The only other NBA team that hasn't trailed by as many as 15 points this season is the Mavericks (Dallas trailed the Nuggets by a season-high 13 points in a 103-92 loss).
The Celtics spotted Orlando a 13-point lead to stat Saturday's game, but still rallied ahead (leading by as much as 12 later in the game).