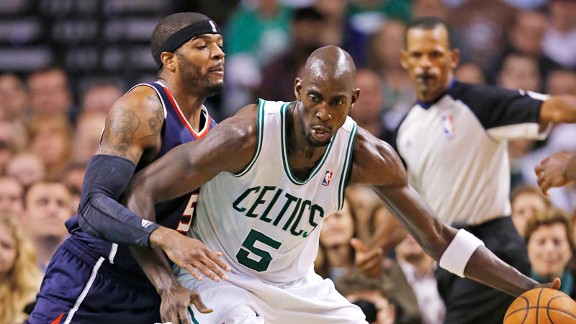 Greg M. Cooper/US Presswire
Kevin Garnett's stat line in Game 6 included 28 points, 14 rebounds and 5 blocks.ESPN Insider makes the case for Kevin Garnett as MVP of the postseason thus far

. A taste from ESPN.com's Tom Haberstroh:
The more we look at the numbers, the Celtics' battered state of affairs and his overall contributions, a case can be made that he has been the most irreplaceable player in the postseason.

Need proof? Consult the scoreboard.

With Garnett on the floor during the postseason so far, here is the score:

Boston 428, opponent 354. That's a margin of plus-74.

That's impressive enough as it is, but there's more. This is what the score looks like when Garnett has sat on the bench this postseason:

Boston 93, opponent 139. A margin of minus-46.

That's a staggering 120-point swing on the scoreboard in a six-game span. We can frame this in more relatable terms. With Garnett on the floor, the Celtics crushed the Hawks by 16.1 points every 100 possessions. But when Garnett rode the pine, the Celtics got trounced by 33.8 points every 100 possessions. Yes, the 49.9-point swing is largest in the playoffs, once we control for playing time and pace.

So why has Garnett been so vital to the Celtics success so far?

First, consider the alternative. The Celtics' depth behind Garnett is thinner than a Larry Hughes-for-MVP argument. The Celtics' frontline has been decimated by injuries to the point that they're calling on Ryan Hollins -- a player the lowly Cleveland Cavaliers saw no use for, mind you -- for big crunch-time minutes. The Cleveland castoff has shot 25 percent in the playoffs and can't help himself from constantly hawking for blocks in the paint. If Garnett can't play for whatever reason, Hollins is the big man the Celtics must rely on. That's frightening.
Hop HERE

to read the full story.