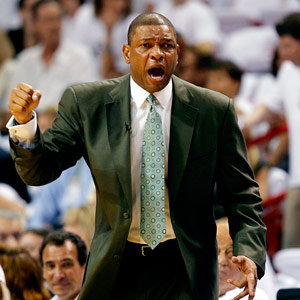 AP Photo/J Pat Carter
Celtics coach Doc Rivers is bored without basketball, too.It's been one month since the Boston Celtics were eliminated from the postseason. Like the rest of us, Celtics coach Doc Rivers is getting stir crazy.
"It's been a long time," Rivers said during an appearance this week on Stephen A. Smith's show on ESPN radio. "Two things stand out to me: Having been in two out of the [previous] three Finals, you realize now how long of a process it is. We've been out for three months, that's what it feels like. Now you understand why coming back [the next season after a Finals appearance], why you're tired, why it's tough to repeat, why it's tough for guys to get ready for the next season. The other thing I see is two very good teams in Miami and Dallas. You wish you were there and it's very difficult to watch in that regards, but you watch because you love the game."
Rivers went on to tackle LeBron James' struggles ("It happens, it's a human game.") and offers his take on both Dallas and Miami. He also gets into the five-year contract extension he inked with Boston ("It's simple for me, it came down to being comfortable with who I'm working with in Danny Ainge and being loyal.") and whether there was some allure to possible jobs in New York or Los Angeles ("I think New York and L.A. appeal to everyone... For me, business wise it might not have made sense [to sign a five-year extension], but loyalty wise, that was the right thing to do.")
Along the way, Rivers also revisits topics like What If the Celtics had Perk in the 2010 Finals? and What if the Celtics had Shaq in the 2011 playoffs? Then chats about his Duke-bound son, Austin, a bit as well.
Hop HERE to listen to the full interview.