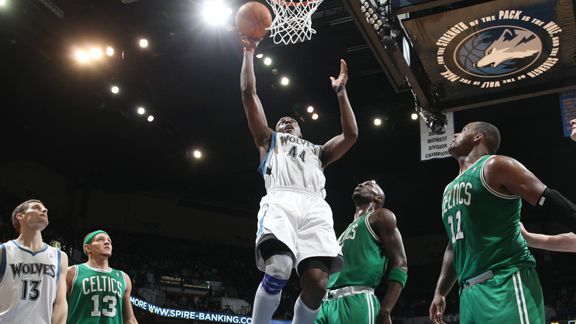 David Sherman/NBAE/Getty Images
The T-Wolves didn't get many easy baskets against Boston.With a rare practice session this past Thursday, Celtics coach Doc Rivers said he narrowed his team's focus down to two specific topics -- transition defense and pick-and-roll defense -- hoping that lengthy periods on each would stick with his team more than simply blasting through the lengthy list of things the team needed to shore up.
While the Celtics certainly haven't looked particularly sharp their last two games, allowing the Charlotte Bobcats to rally from a 13-point deficit to win Friday night in Boston and nearly allowing the Minnesota Timberwolves to rally out of a 25-point hole Sunday in Minneapolis, a look at fastbreak points suggests Boston has learned its lesson about getting back in transition.
The Celtics held Minnesota without a single fastbreak point during Sunday's win at the Target Center. Boston, which allows an average of 11 fastbreak points per game this season, hasn't allowed an opponent to reach double figures in fastbreak points in six consecutive games now, and 10 of its last 12 overall.
Boston limited New Jersey to a season-low one fastbreak point on March 14, but, according to ESPN researchers, this was the first shutout for the Celtics since Feb. 10, 2008 against the San Antonio Spurs.
The Celtics finished with a whopping 14-0 advantage in fastbreak points Sunday. What's more, Minnesota only generated three opportunities in transition (two in the second quarter) and did not score on any of them.
The pick-and-roll defense? Well, that still needs some work.