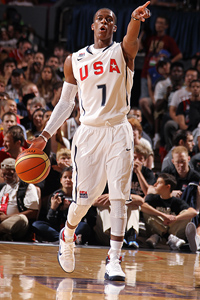 Nathaniel S. Butler/NBAE/Getty
Rajon Rondo is more focused on another Larry O'Brien trophy than a gold medal.ESPN the Magazine's Ric Bucher caught up with Rajon Rondo en route to the Red Bull 1-on-1 tournament Saturday night on Alcatraz and Boston's point guard (and his agent) explained a bit about his departure from Team USA before the FIBA World Championships:
SAN FRANCISCO -- At this stage of his career, Boston Celtics point guard Rajon Rondo says winning a FIBA gold medal just doesn't rank with winning another gold NBA trophy.

In fact, if it had been up to Rondo, he never would have tried out for the USA squad that ended a 16-year drought by defeating Turkey for the 2010 FIBA World Championship title. Rondo said several factors contributed to his subpar performance with the squad -- being worn out from the Celtics' narrow Finals loss to the Lakers, his mind on making up for it this season; missing his two-year old daughter; mourning the death of an uncle; and being disenchanted with European cuisine -- ultimately leading him to withdraw from the team.

Skeptics will say that's a convenient cover for realizing he might not make the 12-man roster after being benched in a warm-up contest against Spain. But there's no question that Rondo has long been ambivalent about playing for Team USA, turning down previous invitations to try out and having a last-minute change of heart this summer. Celtics president Danny Ainge said earlier this summer that he was surprised by Rondo's decision to join the team's Las Vegas training camp.

"I just never got the sense he was committed to it the way some of those other guys were," Ainge said.

His agent, Bill Duffy, insists that it was his idea that Rondo compete.

"Physically, emotionally, he wasn't ready for it," Duffy said. "I feel bad because I was really pushing him to do it because of the experience and his stature."
Click HERE to read the full story.