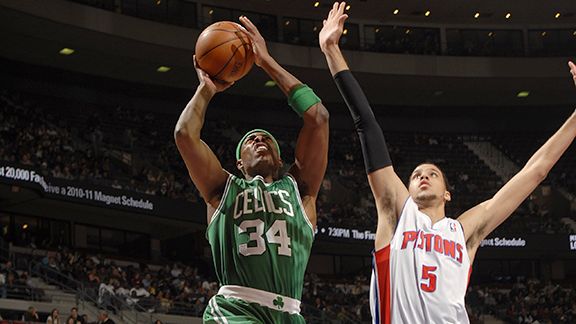 Allen Einstein/NBAE/Getty Images
Paul Pierce puts up a shot against the Pistons on Tuesday night.Five observations from afar after the Boston Celtics defeated the Detroit Pistons 109-86 on Tuesday night at The Palace of Auburn Hills:
VALUE THE BALL, GOOD THINGS HAPPEN
The Celtics struggled with turnovers much of last season and it seemingly carried over into the preseason this year. Before the 2010-11 regular season tipped off, coach Doc Rivers noted that, while Boston was one of the most efficient offenses in the NBA last season, turnovers made things far more difficult for the Green than they needed to be. Rivers is sure to use Tuesday's game as Exhibit A as to what's possible when his team values the ball.
Boston, which ranked second-to-last in the NBA in turnover ratio before Tuesday's game, had a mere eight giveaways against Detroit. And even with just 89 possessions, the team posted a season-high 109 points. That's an awe-inspiring offensive efficiency (points per 100 possessions) of 122.5. To put that in perspective: the C's needed 100 possessions to score 105 points Friday against the Knicks, a game in which they gave the ball away 18 times, and the Celtics' offensive efficiency for the season remains a mere 96.8, or roughly five points lower than the league average.
FOR AN ENCORE, RONDO DOESN'T GIVE THE BALL AWAY
Here's more food for thought on turnovers: In Friday's triple-double performance (24 assists, 10 points, 10 rebounds), Rajon Rondo committed seven turnovers. Even as he matched John Stockton's NBA record with 50 assists through three games, Rondo had an assist-to-turnover ratio of 3.57 thanks to 14 giveaways in that span (his average last season was 3.23, about 10th for point guards).
That assist-to-turnover number jumped to 4.79 after Tuesday's game thanks to an effort in which Rondo handed out 17 assists without a single giveaway. Considering the number of touches Rondo had, it's almost unfathomable that he didn't give the ball away. In fact, Rondo had never reached double digits in assists in a game in which he had zero turnovers. He's now had 36 no-turnover games in his career, but only nine in which he played more than 30 minutes.
THE LITTLE THINGS: FREE THROWS, FINISHING AT THE RIM
The Celtics made all 18 free throws they attempted Tuesday night, no small feat for a team that ranks in the lower third of the league in free throw percentage at 68.8 percent. Sure, Shaquille O'Neal's absence aided that cause, but obviously it was a team effort against Detroit.
Speaking of making easy shots, the Celtics also converted 19-of-24 shots at the rim, a whopping 79.2 percent. What's the big deal, you ask? The league average last season was nearly 20 percent lower than that (61 percent) and Boston was the second-best team last year at 64.4 percent (only Cleveland was better). The Pistons were a mere 15-of-33 shooting at the rim for 45.5 percent Tuesday.
REVISITING OUR THREE THINGS TO WATCH
In Tuesday's game preview, we pointed to three key areas we'd be watching: Jermaine O'Neal, Semih Erden and Rondo's encore. We've already addressed Rondo, but the two big men deserve some praise as well.
With Shaquille O'Neal (right knee bruise) not making the trip, Jermaine O'Neal drew the start and used 21 much-needed minutes of floor time to start finding a rhythm. He knocked down 5-of-8 shots for 12 points with two rebounds and two blocks. Slowed by injuries, Jermaine O'Neal is clearly still trying to get comfortable (and up to speed) at both ends of the floor and two first-quarter fouls could have sent his night spiraling. He made 3-of-4 shots in the third quarter, including two from the wings, which might shake the rust from his jumper.
As for Erden, he made the only shot he took -- a rim-swinging fast-break dunk off a feed from Von Wafer in the second quarter -- and was otherwise reliable. He was scrambling at times, as any rookie is prone to do, but chipped in three rebounds and two blocks over 15 big minutes with Boston thin up front.
NOT ALL SUNSHINE AND PUPPY DOGS
If you're going to nitpick, Boston's bench failed to make this a laugher as early as it should have and even forced Rivers to reinsert his starters in the fourth quarter. The veterans otherwise would have been resting with the second half of a back-to-back looming Wednesday when Milwaukee visits TD Garden.
Take away rookies Erden and Luke Harangody (the first-year players combined to make all three shots they took), and Boston's veteran reserves -- Marquis Daniels, Nate Robinson, Von Wafer and Glen Davis -- combined to connect on only 8-of-24 attempts for 23 points (5-of-17 for 13 points if you take away Davis, the only one to make a noticeable dent in the plus/minus category at plus-10).
Ray Allen (34 minutes), Kevin Garnett (33) and Paul Pierce (32) all played sizable minutes, opening the door for them to potentially be a little weary with a young and athletic Bucks squad coming to town.