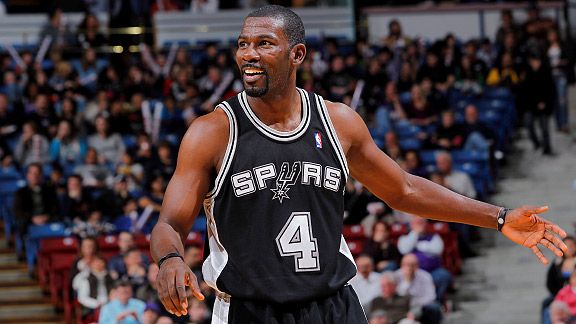 NBAE via Getty Images
Could Michael Finley find a home in Boston?In today's Daily Dime, ESPN.com's Chris Sheridan examines his top 10 available free agents and offers thoughts on where they might land. That list is headlined by Michael Finley, the veteran swingman who accepted a buyout from the San Antonio Spurs Monday, on the last day for players to be waived while still retaining playoff eligibility with another team.
Here's a quick glance look at Sheridan's list: 1. Finley; 2. Travis Diener; 3. Larry Hughes; 4. Mark Blount; 5. Mike James; 6. Wally Szczerbiak; 7. Kenny Thomas; 8. Ricky Davis; 9. Brian Cardinal 10. Zydrunas Ilgauskas.
It's condemning of a list when the meat of the order is a who's who of Celtics disappointments from the early 2000s. So would the Celtics have their sights on any of these guys (well, beyond Blount, James, Sczerbiak and Davis?)
Multiple reports indicate the Celtics could have interest in Finley. The 15th-year veteran has spent the last five seasons in San Antonio, where his production only began dipping this season (3.7 points, 0.8 rebounds, in 15.8 minutes per game over 25 appearances). Finley, who turns 37 on Saturday, averaged 9.7 points, 3.3 rebounds and 1.4 assists per game over 81 contests last year.
Could the Celtics use a veteran swingman? It couldn't hurt. Last week, the team found itself woefully thin at small forward with Paul Pierce and Marquis Daniels both sidelined leading up to a showdown against the Cleveland Cavaliers. The Green were scrambling to figure out who would defend LeBron James in the event both players couldn't dress (Daniels ultimately played through illness). While it's difficult to envision that situation arising again, these injury-prone Celtics can hardly rule out any scenario.
(We'd be remiss if we didn't point out that old friend Bill Walker scored a career-high 21 points Monday night against the Cavaliers. J.R. Giddens, traded to the Knicks with Walker in the Nate Robinson deal, made it sting by Tweeting: "Amazing what people can do when they get an opportunity.")
The Celtics, who have two available roster spots right now, have always been in the market for veteran free agents late in the season, bringing in the likes of P.J. Brown, Sam Cassell and Mikki Moore in recent years. A rebounding power forward would seem one potential interest this year, but not sure there's one there among Sheridan's Top 10 (and don't even suggest Blount, a 7-footer who has a baffling 45 career games where he did not register a single rebound, including 27 of which he played at least 5 minutes. Inexcusable).
Moore is available again, too, though is coming off a heel injury that led to his departure from the Golden State Warriors. Could we interest you in Michael Sweetney, a player Doc Rivers lamented cutting at the end of camp with Boston boasting a full 15-man roster?