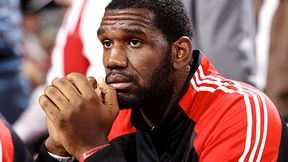 Sam Forencich/NBAE/Getty Images
The Celtics met with Greg Oden on Saturday morning in Waltham.The Boston Celtics met with free-agent center Greg Oden on Saturday, according to president of basketball operations Danny Ainge.
The meeting comes as injury-riddled Oden intensifies his search for a team with the goal of returning to the NBA next season. Whispers spread this morning that Oden had been spotted at the team's practice facility and Ainge confirmed the exploratory meeting.
The Celtics were not previously believed to be a strong candidate for Oden's services, but Saturday's meeting suggests otherwise.
Here's what ESPN.com's Chris Broussard reported earlier this week on Oden:
San Antonio, New Orleans, Charlotte, Indiana and Dallas have been monitoring the rehab of Greg Oden and are in the running for his services, according to sources.

Oden is preparing for a return to the NBA next season, with Miami and Cleveland earlier reported as the front-runner to land the 7-footer. Several clubs have been in touch with Oden's representatives about possibly signing him this year, according to league sources.

Oden, the first overall pick by the Portland Trail Blazers in the 2007 draft, is expected to choose a team in the next three to four weeks, according to sources. He would not play, however, until the 2013-2014 season.

Oden is shuttling between Indianapolis and Columbus, Ohio, where he is rehabbing at Ohio State University. Knee injuries have limited Oden to only 82 career games. The 25-year-old underwent the Orthokine procedure championed by Kobe Bryant this past fall.

While most clubs are likely to offer Oden the league's minimum salary, clubs such as Cleveland, New Orleans and Charlotte could offer a much larger payday.
* Rapid reaction: Ainge admitted last month that the Celtics were monitoring Oden's status and keeping in touch with his representatives. Saturday's meeting was exploratory -- Ainge termed it "just a visit" -- and all indications are nothing is imminent in terms of Oden making his decision. The question is whether the Celtics, beset by injuries over the past week in losing Rajon Rondo and Jared Sullinger for the season, can afford to sacrifice another roster spot for a player that won't be ready until next season. All that would ultimately depend on (1) Oden's interest in signing before the end of the 2011-12 season and (2) What direction Boston elects to take this season and whether it needs that spot to add another serviceable body for a playoff push. Of course, the mere potential in Oden, even amid his injury woes, is an enticing option for any team.