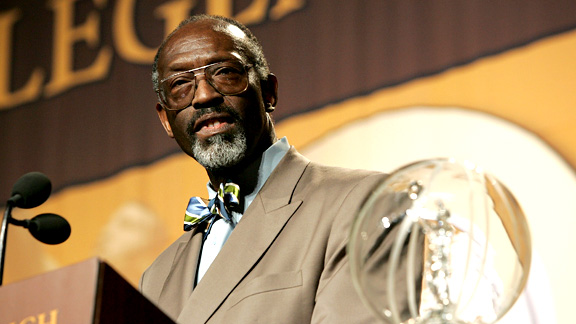 Melissa Majchrzak/Getty Images
Satch Sanders educated incoming NBA players about the benefits and dangers of their new lives.As Celtics legend Tom "Satch" Sanders preps for entry in the Basketball Hall of Fame this weekend, Richard Lapchick explains his tremendous impact on the game:
In 1984, when I started the Center for the Study of Sport in Society at Northeastern University in Boston, I hired Sanders as an associate director. In discussing some of the things that I wanted to address, such as student-athlete graduation rates and the lack of opportunities for women and people of color as head coaches and in front office positions in the various professional leagues and at the college level, it was clear that Satch was a deep thinker on these and other issues.

He cared deeply that too many athletes were not getting an education because they were pursuing the dream of a professional career. They were ignoring studies to hone athletic skills in spite of the fact that the odds were better for an African-American high school basketball player to become a doctor or an attorney than to play in the NBA. Satch saw the Center as a platform to advocate for the truth with boys and girls as well as men and women.

He was a model for citizen-student-athletes. Not only did he get a great education at NYU, but he was very involved in the Boston community as a Celtics player and afterwards. He also was ready to speak up, often softly yet always with the powerful voice given to successful athletes.

Boston at the time had a terrible reputation for race relations. It had one of the most violent reactions to desegregation busing in the country, but Satch stayed. "I can travel to every part of the country and see racism first hand," he said, when I asked. "It is not unique to Boston."
Hop HERE to read the full story.