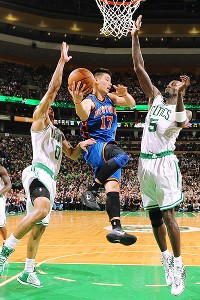 Steve Babineau/NBAE/Getty
Kevin Garnett attempts to prevent Linsanity in Boston.BOSTON -- It's easy to forget now, but the Boston Celtics were the last team spared from "Linsanity."
Harvard's Jeremy Lin, playing his ninth game with the New York Knicks earlier this month, logged a mere 6 minutes, 36 seconds of court time against Boston, missing all three shots he took while chipping in a pair of free throws, two rebounds, and an assist as the Celtics emerged with a 91-89 triumph on Feb. 3.
The very next night, Lin produced 25 points and seven assists over 36 minutes against the New Jersey Nets, got elevated into the starting lineup, and, well, he's been dominating SportsCenter -- and, more recently, non-sports programming as well -- as the biggest story in the NBA this season.
Celtics coach Doc Rivers admitted he hasn't seen much of Lin beyond the highlights and the Garden glimpse earlier this month, but he certainly knows what it's like to be a point guard playing on the big stage in the Big Apple.
"It's New York," Rivers said while discussing the circus-like atmosphere that currently exists around Lin, who handed out a career-high 13 assists to pace the Knicks to their seventh-straight win by topping Sacramento Wednesday evening. "Really, some place else, I don't know if the attention would be as great. The accomplishment would still be great, but I don't know if the attention would be as great. Let's just be honest, what's making this whole story great is the winning streak. They are winning games while he's doing this. If he was doing the same numbers and it was all losses, we wouldn't talk about it.
"It's a good thing; It's a good lesson for everyone: If you want some attention, go win."
Asked if NBA talent evaluators whiffed on Lin, the undrafted Ivy League product who couldn't stick with the Golden State Warriors after appearing in 29 games there last season and was cut by the Houston Rockets in training camp, or if Lin simply found a favorable situation with a talented New York team in need of a point guard, Rivers split the difference.
"Let's give him enough credit and say it's just that he's a good player that everyone missed," said Rivers. "I'm sure the system has something to do with it. Playing in [Knicks coach] Mike [D'Antoni's] system as a point guard that can pass and shoot, tends to turn out pretty good. But you still have to be able to pass and shoot. And he's doing that very well."
Rivers wasn't certain if Lin was ever on the Celtics' radar (the Boston Herald, citing sources, reported Thursday that Boston was interested in claiming him off waivers earlier this season), but he said the front-office staff likely had an idea about the local standout coming out of college. Rivers admitted he didn't previously know much about Lin, joking, "I thought [Harvard coach] Tommy Amaker and I were friends. Maybe not. He never told me [about Lin]."
Rivers compared Lin to Detroit's Ben Wallace, who recently eclipsed the NBA record for most games appeared in by an undrafted player.
"It's rare, especially being non-drafted," said Rivers. "I think there's been several cases of guys being drafted, even in the first round or second round, where it didn't work out for them with one team and another team, but then they finally found their way. That means they matured; We knew they had talent. This is different to me. No one drafted him and he's been moved around, so they were saying, without drafting him, that they didn't think he could play. Then they cut him several times, [because] they didn't think he could play. Now he's doing this.
"I'd love to get inside his head, because he must be a stubborn kid. You have to be a really stubborn kid to go through that and still do what you're doing."
Just as we thought, he's downright Linsane.