Shaquille O'Neal is just the latest superstar to try to finish his career on a high note with Celtics. ESPN researcher Jeremy Lundblad examines how it played out for others: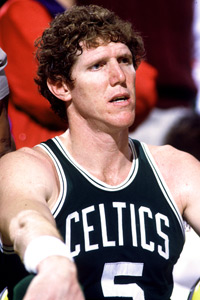 John McDonough/Icon SMI
At 32, Bill Walton had his healthiest NBA season in 1985-86 and helped Boston win it all.
Just before signing with the Boston Celtics this week, Shaquille O'Neal shared his vision for the end of his career.

"I came into the league very graciously and want to go out very graciously," the 38-year-old O'Neal told the Associated Press. "My main thought was I would like to play for a winning franchise, somebody that's used to winning, somebody that keeps winning."

With a no-doubt Hall-of-Fame resume and set to be the oldest player in the league, it was not about money. Unlike Karl Malone, this wasn't a last-ditch title grab for a player worried about a legacy of losing. O'Neal sought a tradition of success and the chance to close out his career on a championship note.

His decision follows a long history of legends who gave it one last try in Boston. The dynasty of Celtic Pride formed in the 1950s and 1960s created an atmosphere of success irresistible for aging stars looking to solidify their legacy.

Some -- like Kevin Garnett or Bailey Howell -- arrived with plenty left in the tank. Other fading stars -- like Clyde Lovellette and Arnie Risen -- were brought in by Red Auerbach to play a reduced role and stuck around for multiple years.

However, Shaq seems to belong to a third group of aging legends: Players keenly aware the end is right around the corner and ready to make Boston a brief, final attempt to go out a winner.

How will Shaq be remembered in Boston? Ultimately, that comes down to whether he helps hang a banner in the rafters. Without that title, he'll likely fall into the category of forgotten Celtics. Consider the cases of four legends who preceded O'Neal in Boston: Artis Gilmore, Bill Walton, Pete Maravich, and Dave Bing.
Click HERE to read the full story.