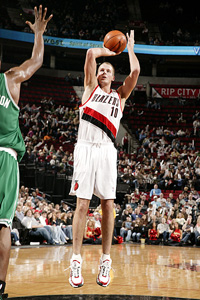 Sam Forencich/NBAE/Getty
Could a healthy Joel Przybilla be a good fit in Boston?Continuing our offseason look at players that could be of interest to the Boston Celtics once a new collective bargaining agreement is achieved with a look at center Joel Przybilla:
The skinny: Right knee issues limited Przybilla to 66 games over the past two seasons, but when healthy the 7-foot-1 center, who will turn 32 before the start of next season, is a solid defender and a rebounding machine. Drafted ninth overall by the Houston Rockets in 2000, Przybilla got dealt to Milwaukee for Jason Collier and a 2001 first-round pick (Jeryl Sasser) in a draft-night swap. Midway through his fourth NBA season, Przybilla got shipped to the Atlanta Hawks in a three-team deadline deal. In the summer of 2004, Przybilla inked a two-year deal with the Portland Trail Blazers which led to him re-signing for five more seasons in a deal that escalated from the full value of the mid-level exception. In 11 NBA seasons, Przybilla has averaged 4 points, 6.3 rebounds, and 1.5 blocks over 20.3 minutes per game.
2010-11 season: After two knee surgeries, Przybilla returned to the court in Portland in December. He appeared in 31 games for the Blazers before being dealt to Charlotte at the deadline. Przybilla played nine more games for Charlotte before shutting down for the season and undergoing another procedure to remove wires in his knee. Przybilla, aided by a trade kicker, earned $7.7 million last season. His total stat line last year: 1.8 points and 4 rebounds over 14.4 minutes per game.
Why it makes sense: While nothing about his recent injury history suggests you should have too much confidence in Przybilla's right knee, if he were near 100 percent, his talents blend well with this Celtics team. Przybilla has averaged a mere 2.8 field goal attempts per game and much of his offense comes simply on second-chance opportunities (A nice fit given the talent Boston would put around him). It's on the defensive end where he earns his money, excelling at both harassing opposing centers and cleaning up the glass. During the 2008-09 season, before the knee injuries came along, Przybilla appeared in 82 games and maintained a stellar 33.1 defensive rebound rate (for comparison, Kevin Love led the NBA at 34.2 pecent this past season), while averaging a career-best 8.7 rebounds per game that year. That sort of ability to clean up the glass and limit second-chance opportunities for opponents -- something that killed Boston a year ago -- would be mighty valuable for the Celtics.
Why it doesn't make sense: The joke would be that, between Przybilla and Jermaine O'Neal, the Celtics would have two healthy knees at the center position. The numerous procedures the past two years and an inability to stay on the court last year is troubling, but does the reward outweigh the risk? It all depends on the price tag. It's hard to imagine the Celtics offering anything more than a one-year deal as Przybilla's limited offensive impact is fine when you've got four All-Stars around him on the court, but it wouldn't sustain long term. Given the injury history, would Przybilla seek more security if another team offered more seasons?
Bottom line: A healthy Przybilla on a low-risk contract has high-reward potential, but Boston must remember last season and the perils of rolling the dice with injury-prone centers. An extended lockout and additional recovery time for Przybilla's knee wouldn't be a bad thing for his future team.