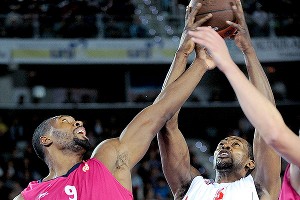 Rafa Rivas/EB/Getty Images
Joey Dorsey (9) at work overseas.Throughout the offseason, there will be reports and whispers about players that the Celtics might be interested in. Each time a name bubbles up, we'll ask an ESPN Boston writer to react to the rumor. Next up: A Greek news outlet claims former Memphis Tiger Joey Dorsey has worked out for the Celtics. Like a summer romance, could this love truly last?
From Greek news outlet Red Planet: The Celtics have reportedly worked out former Memphis forward Joey Dorsey, who never found a home during his three seasons in the NBA after being drafted by the Portland Trail Blazers and was immediately traded to the Houston Rockets back in 2008. Dorsey most recently played overseas in Greece for Olympiacos.
ESPN Boston reaction: Dorsey might never have found success in his first go-around in the NBA, but he contributed to Olympiacos' ascent to the top of the Greek League and the Euroleague this past season. Despite what appear to be subpar career stats on the surface for Dorsey (2.6 points and 3.8 rebounds), he actually boasts a tremendous 21.7 career rebounding rate (to put that in perspective, Kevin Garnett's highest rebound rate for a single season is 20.3 during the 2004-2005 campaign. Dorsey played a career-high 43 games for the Raptors during the 2010-2011 season, and put forth a 21.6 rebounding rate over that span, playing just 522 minutes). It would most likely be a low-risk, high-reward scenario for the Celtics if they were to take a flier out on Dorsey, as it's difficult imagining him demanding more than a minimum contract. Based on his NBA resume, the Celtics probably wouldn't be willing to offer Dorsey more than the minimum for his services. Perhaps if Dorsey were put into a situation where his role would be to do one or two specific things (rebounding and blocking shots) -- like one he might find in Boston, for example -- he would be able to put up consistent numbers and contribute to a team. -- Greg Payne
(h/t: CelticsTown)