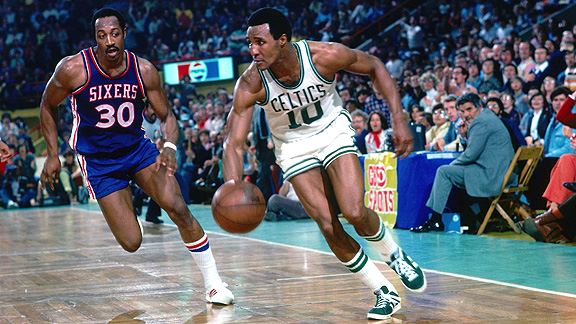 Dick Raphael/NBAE/Getty Images
JoJo White in action during his playing days.ESPN Boston continues its conversations with Celtics legends by checking in with JoJo White. A seven-time All-Star, White played nine full seasons for the Celtics, and helped lead the club to two championships in 1974 and 1976. White discussed reuniting with former teammates at a Shamrock Foundation fundraiser earlier this month, Paul Pierce's place in Celtics history, and the growth of Rajon Rondo.
What's it like to reunite with so many former teammates?
"Oh, I think it's absolutely fantastic. To have former players be involved with the organization, especially at this day-in-time, I mean, sports has grown. But at the same time, it's grown so fast that sometimes players miss some things that we were tutored in that made the game as great as it is. To have great players who were successful during their eras, to pass it on to those who are coming on, I think it's phenomenal. And the Celtics have certainly been great for a lot of years."
Where does Paul Pierce rank among all of the Celtic greats?
"He's on the move. He can't go down. He's been down, he's coming up. But he's tasted it now. Going through it and all of a sudden you get to taste it. It's like night and day. So once you taste it, all you want is more of it."
What about Rondo? Could he ever be in that conversation with the greats one day?
"What has he done? He's been on a winner. He's learning how to win. He's going through that process as we speak."
What about when it's his team once the Big Three have retired?
"We'll wait and see."
When's the last time you saw a point guard as dynamic as Rondo play for this team?
"Well they come and go. Still, a lot of people say he's running without a jump shot. It's amazing all that he's achieved and he doesn't have one. Wait until he gets one."
Does he need a jump shot? Or can he still be successful without it?
"That's part of your arsenal that you need, ongoing. He's finding out a lot of things as we go. As long as he stays a student of the game, he will continue to learn and be able to do it out on the floor. I expect a lot from Rondo because he's an unbelievable talent. But you have to stay humble and continue to listen and continue to work and then you'll see him continue to rise."
Greg Payne is a student intern for ESPNBoston.com