GREENBURGH, N.Y. -- J.R. Smith thinks the New York Knicks would have swept the Boston Celtics if he had been playing in Game 4 of the division rivals' playoff series.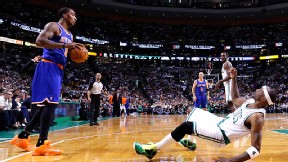 Greg M. Cooper/USA TODAY Sports
JR Smith earned a one-game suspension for an elbow that floored Jason Terry in Game 3."Oh yeah, it would've been over," Smith said after Tuesday's practice. "I'd have been playing golf today."
The NBA suspended Smith for Game 4 after the star guard threw an elbow at Jason Terry's chin late in Game 3.
Smith watched on television Sunday as the Celtics defeated the Knicks, 97-90, in overtime to avoid elimination and extend the series. Smith also watched Terry score nine points in overtime.
Asked about Terry on Tuesday, Smith said, "Who? I don't even know who that is."
The Knicks' bench scored just seven points in the loss, a clear indication that they were hurt by Smith's absence. Carmelo Anthony shot just 10-for-35 and seemed to miss Smith, who draws attention from opposing defenders.
"It was very tough to watch," Smith said. "Especially that first half. I mean, from the turnovers to missing shots. ... It wasn't the easiest thing ever.
"I wasn't pleased with it. My teammates wasn't either. I'll get the chance to make up for it tomorrow."