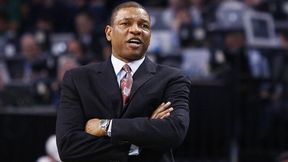 Mark L. Baer/US Presswire
Doc Rivers discussed the art of coaching.After observing a pair of coaching clinics this summer, ESPN.com's Jay Bilas shared some highlights on his blog Saturday, including bullet points from presentations given by Celtics head coach Doc Rivers and his assistant Kevin Eastman at the Coaching U Live seminar in Orlando last month. Much of what the duo stressed is what we see them striving so hard to get across to their Celtics players as well. From Bilas

:
Coaching U Live is the brainchild of NBA assistant coaches Kevin Eastman and Brendan Suhr, two of the best teachers in basketball. The clinic was two days, and the quality content of teaching techniques, strategies and concepts was staggering. Speakers included Eastman and Suhr, Boston Celtics coach Doc Rivers, former college head coach George Raveling, St. John's assistant coach Mike Dunlap, Orlando Magic coach Stan Van Gundy and Miami Heat coach Erik Spoelstra...

• Doc Rivers questioned how football seems to be able to get 11 players to execute well, and basketball seems to struggle at times to get only five players to execute. Why? Rivers spoke of football's culture of execution and following direction, and the fact there is a huddle after every play. Rivers researched the issue and found that there are 92 possessions in an NBA game, and 47 of those possessions are after a free throw, turnover or other dead-ball situation. Those are opportunities for your team to get together and set up. There are more such opportunities in basketball than we may think.

• Rivers said that he "steals" from high school, AAU and college games. There are good X's and O's elements everywhere, and he pays attention to those opportunities. But, while the strategic aspect of the game is important, the player "buy-in" is more important.

• Rivers spoke eloquently of the importance of roles on a team. To be successful, you need to have everyone embrace being a "star in his role." And a player's role does not stay the same from year to year. In order to win, a player may have to accept a role he does not like, but that is imperative for his team to win.

• Rivers spoke of listening to the players. They are out there in the middle of it, and they see and know things. Often, what they say is right. A coach always has to listen.

• Eastman spoke of the development of a bench mentality, and urging the bench to make a difference, not just give the starters a blow. Your reserves can win you a title, but they can also keep you from winning one.

• Eastman said that there couldn't be an enemy or an opponent in your own locker room. Championships are "we" driven.

• Eastman said a player having "an attitude" is understandable, but it is not acceptable.

• Eastman spoke of the people he trusts as the people who deal in truth. They tell it, they live it and they accept it.

• Eastman stressed that the best defensive teams are "all in" mentally, physically and verbally. He said that the Celtics communicate with voice and fingers, pointing to communicate in addition to talking. It was impressive to see so many NBA people writing down the concepts shared by Eastman.
Hop HERE to read the full blog entry.