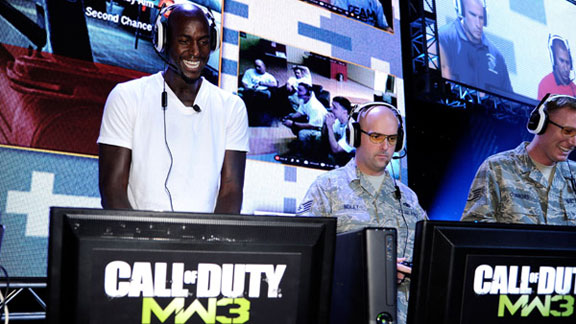 Activision
Kevin Garnett takes on members of the military in "Call of Duty."With the lockout, NBA players have even more time for video games. During a promotional tour for "Call of Duty," Garnett chatted about being choosing video games over clubs, Big Baby's gamer skills, and rejecting virtual Danny Ainge:
THE GAMER BLOG -- KG: 'GAMING IS LIFE'
KG even says that after Celtics games, it's pretty routine to find the team online playing "Call of Duty" against each other.

"Guys go home from a hard game and might jump on for four or five hours," said the former video game cover athlete ("NBA 2K9," "NBA Live 2001"). "The days of going out and clubbing are over. I think gaming is the new reality. Gaming is life."

And while he says that Glen "Big Baby" Davis is the best gamer on the Celtics, Garnett boasts that his skills should not be taken lightly.

"I'm online every day," he said. "I'm a real gamer. I love to play. When I play 'Call of Duty,' I'm a soldier on the ground. I'm out here trying to smack everybody and get as many kills as I can. To me, this is all about fun. I'm not the type of guy who uses cheat codes or tries to knock the controller out of your hand when we play. I hate cheaters. I like to put whatever I put into it and then get what I'm supposed to get out of it."
With the lockout, KG technically can't play any online video games with Ainge (you know, assuming Ainge has an XBox 360), but Garnett is relishing the potential to block his boss's virtual shots in 2KSports' upcoming NBA 2K12.
This year, with all the legends on the virtual court, Garnett is looking forward to playing against his boss in "2K12," former Celtics great and current president of basketball operations Danny Ainge.

"I'm not going to dunk on him," Garnett said with a laugh, "but if I could swat a few of Danny's shots up into the second row, I think that would be a fun thing. That's what makes gaming so great. You can do so many different things and it's all in good fun."