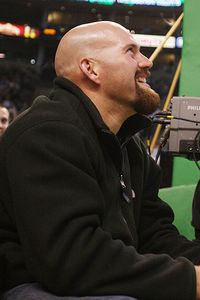 Elsa/Getty Images
Kevin Youkilis takes in a Celtics-Hawks game during the 2008 playoffs.Red Sox third baseman Kevin Youkilis is expected to be sidelined for the remainder of the 2010 regular season with a thumb injury. But the ailment might have given him an inside track to appearing on an episode of Shaq Vs., with new Celtics center Shaquille O'Neal.
From colleague Gordon Edes in the ESPN Boston Red Sox blog:
Youkilis said doctors also were unable to tell him of another athlete who has had the same injury, although they've noted that there have been athletes -- Shaquille O'Neal, for one -- who have torn the adductor muscle in concert with a torn tendon in the thumb.

An excuse to get in touch with Shaq?

"Yeah, I'll call Shaq and hang out," said Youkilis. "I'd love to sit down and talk with Shaq, maybe play Scrabble, use all the Q's. It's going to be fun to have Shaq here."
Youkilis is from Ohio, but noted last season that he's no Cavaliers fan. He's been spotted at Celtics games and, should the Red Sox miss the postseason, he can always fill time by getting an up-close look at Shaq at the TD Garden in October.