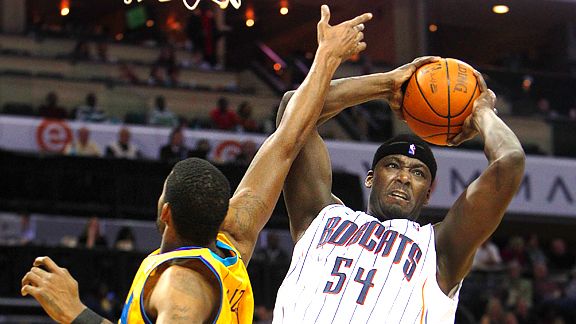 AP Photo/Chuck Burton
Pondering Kwame Brown in green, take 2, action!We continue our offseason look at players who could be of interest to the Boston Celtics once a new collective bargaining agreement is achieved with a look at center Kwame Brown.
The skinny: Déjà vu anyone? Just a year ago we were pondering the merits of inking Brown, but the Celtics ultimately lured Shaquille O'Neal to Boston, and the other former No. 1 overall pick (2001 with the Washington Wizards) instead signed with Charlotte and old boss Michael Jordan. It seemed like Boston got the better of the available bodies, but O'Neal labored through an injury-riddled season and played a mere 17½ minutes after Feb. 1, while Brown actually put together one of his better NBA campaigns (which has featured five teams in 10 seasons).
2010-11 season: Brown averaged 7.9 points and 6.8 rebounds while shooting 51.7 percent from the floor in 66 appearances (50 starts) for the Bobcats. He earned $1.2 million under a veteran-minimum deal (as a one-year pact, the Bobcats paid just $854,389, the rest is picked up by the league).
Why it makes sense: Once again the Celtics are in need of low-priced big men to fill up their frontcourt and the 6-foot-11 Brown is actually more attractive than a year ago. With Jermaine O'Neal the only true center currently under contract, there's the potential for plenty of playing time (Brown logged 26 minutes per game a year ago) and maybe even spot starts given Jermaine O'Neal's injury history and a likely preference to limit his wear and tear during the regular season. Brown's defensive rebounding rate (21.6 percent last season) was better than Shaq's (20.1) a year ago and would have been third best in Boston behind only Kevin Garnett and Kendrick Perkins. According to Synergy Sports, Brown graded out as good at cut and post-up plays, the two primary forms of his offense (56.7 percent of his total plays came via those types), and was excellent as the roll man in pick and roll (though only 9 percent of his play came that way). His offensive rating last season was a glossy 110 (the same mark posted by Kevin Garnett).
Why it doesn't make sense: Brown's defense isn't much to write home about. Teams will attack him in the pick-and-roll, where Synergy Sports graded him out as just average in allowing .953 points per play while defending the pick setter in pick-and-roll situations (a whopping 38.1 percent of his plays came in that situation). He was similarly average in post-up situations, but thrived in the spot-up scenarios (in fact he was in the 94th percentile, allowing only .729 points per play). Alas, Brown's overall defensive rating was 108; by comparison, Nate Robinson and Ray Allen were a team-worst 104 for Boston last season. Brown doesn't block a lot of shots (only 39 last year) and that would leave Boston leaning on Garnett (and the power forwards who share the floor with Brown) to protect the basket.
Bottom line: Compared to what's available in the bargain bin, Brown is an attractive option, even if last season was the first time he's played more than 58 games since the 2005-06 campaign. As we saw with Shaq, his offense would come as a result of having star power around him, but would Boston be able to mask his defensive deficiencies, as they did with O'Neal? If the Celtics can't maneuver into the Samuel Dalembert sweepstakes, the 29-year-old Brown might be the next best option considering the price tag.