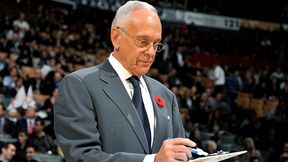 Garrett W. Ellwood/NBAE/Getty
Could Larry Brown finally end up in Boston?After word spread that the Detroit Pistons had offered their head coaching position to Lawrence Frank, we suggested that maybe Doc Rivers would call up old friend Larry Brown in regards to filling the spot next to him on the Boston bench. On Saturday, Yahoo! Sports' Adrian Wojnarowski, citing sources, reported that, Brown was interested in the gig, but that the Celtics were more inclined at the moment to promote from within, with eyes on four-year assistant Mike Longabardi.
Rivers now faces an interesting decision (one that could very well extend beyond Brown and Longabardi). It was just four years ago that Brown nearly earned the job as Boston's top assistant before the 2007-08 championship season. Instead, looking for a defensive-minded coach, Rivers turned to (then-Rockets assistant) Tom Thibodeau. To aid Thibodeau's transition to a new team, Rivers also brought in fellow Houston assistant coach/video coordinator Longabardi.
"If we had stayed young, it was going to be Larry with his teaching and fundamentals," Rivers explained before the 2007-08 season. "I believed these young guys had heard my voice over and over and they needed to hear someone else preach it. But once we got veterans, I was thinking Tom all the way because of defense, defense, defense. And I knew Larry didn't want to coach veterans."
Zap back to present day and not much has changed with the Celtics' roster. Yes, Boston is eager to get younger, but the core of the team remains the same grizzled veterans who aided that championship run (and Boston is more likely to lure championship-hungry veterans on the free agent market than young talent). Currently, Rajon Rondo and Avery Bradley are the only players under the age of 32 (Jeff Green, too, if retained as a restricted free agent), while Kevin Garnett, Ray Allen, Paul Pierce, and Jermaine O'Neal boast 59 seasons of experience combined under their belts.
While Brown is a proven winner at every level -- he won an ABA title as a player with the Oakland Oaks in 1969, an NCAA title as coach at Kansas in 1988, and an NBA title as coach of the Pistons in 2004 -- and is a Hall of Famer, his last two coaching tenures with the Knicks and Bobcats saw him finish with a 111-163 record in three-plus-seasons. With Brown set to turn 71 in September, one wonders how much longer he wants to endure the grind of coaching. Even if he comes at a reduced rate for a championship-caliber top assistant, as the Yahoo! report indicated, would Boston be left scrambling to fill that position again soon?
Boston's top assistant spot has been the fast track to an NBA coaching gig in recent seasons. Both Thibodeau and Frank have landed head coaching offers in little more than a calendar year. As long as Boston continues to win games, teams will be examining the man sitting closest to Rivers (and the rest of his staff, as proven this summer with coaching associate Darren Erman getting wooed to Golden State).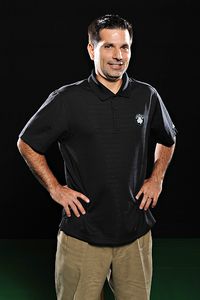 Brian Babineau/Getty
Could Mike Longabardi be Boston's next top assistant?So what about Longabardi? The 38-year-old's resume as a coach includes seven years as an assistant at Pfeiffer University, Adelphi University, Lafayette College and Towson University before landing a job as assistant video coordinator with the Rockets. He spent four seasons there, the final two in the role of assistant coach/video coordinator, before coming to Boston. The Brooklyn native earned the nickname "Mr. Defense" during his college playing days at Newberry College (he later transferred and graduated from Frostburg State University).
That defensive focus might make him the ideal in-house candidate to jump into the role of top assistant. There's also something to be said for maintaining familiarity with Boston set to have its third top assistant in three seasons. With Rivers agreeing to a five-year extension at the start of the offseason, a younger top assistant might mean less changeover in the coaching staff (at least for a short while).
One thing seems reasonable: With a candidate they like in-house, there's little reason for the Celtics to move too quickly, particularly in the midst of a lockout. Why add to the payroll (or give someone a promotion) when coaches and players can't even look at each other without getting fined? Once Frank officially signs in Detroit, the only NBA head coaching vacancy will be with the Minnesota Timberwolves and that seems unlikely to interfere with Boston's assistant search.