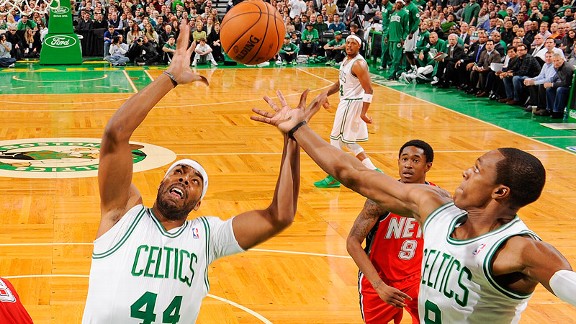 Brian Babineau/NBAE/Getty Images
Could we see more of this with a starting lineup swap for the Celtics?Celtics coach Doc Rivers has hinted at times this season that he'd consider a lineup shuffle to give his slumping team a jolt. One potential change the team could consider: Moving Chris Wilcox into the starting group alongside the Big Four.
While Wilcox's defense is a downgrade from that of current starter Jermaine O'Neal, his energy and athleticism could be exactly the boost the first unit needs. What's more, Wilcox's defensive rating is actually a career-best 98 so far this season and having the likes of Kevin Garnett alongside might aid some of his individual struggles both in pick-and-roll and post situations.
The Big Four and Wilcox lineup has logged a mere 16.4 minutes of floor time over three games this season, according to Basketball Reference, but, during that span, the Celtics have operated at a slightly elevated pace (89.4), outscored opponents (plus-9), and dominated on the glass (61.9 total rebound percentage; 84.6 defensive rebound percentage).
The Big Four and O'Neal comprise the Celtics lineup with the best plus/minus overall at plus-27 (tied with a unit of Avery Bradley, Paul Pierce, Mickael Pietrus, Brandon Bass, and Kevin Garnett) but that's over a team-high 177.2 minutes of floor time in 12 games together. That unit operates at a slightly below-average pace (88.5) and has been underwhelming on the glass (49.8 percent total rebound percentage, 74.6 defensive rebound percentage).
It's also worth noting that some of Boston's most productive lineups feature O'Neal with a mix of starters and reserves, including two that mix him with Brandon Bass and Ray Allen, two players he would likely be paired with by coming off the bench. The fact that O'Neal has had trouble staying on the court might encourage Rivers to explore the swap.
So why wouldn't the Celtics make a switch? The biggest reason might simply be health. Without a full complement of players up front, Boston can't easily pull the trigger on a swap. In moving Wilcox into the starting lineup, the Celtics still ideally need a backup four able to fetch Kevin Garnett after his initial five-minute stint. The recent absence of Bass, along with games missed by O'Neal, Garnett, and Wilcox, have made it virtually impossible to even consider as Rivers has acknowledged.
"It's tough to do it when you don't have your guys," Rivers said in response to a lineup change query last week. "Even if you want to make a change, how can you? Kevin [Garnett] and Brandon [Bass] have been out, or somebody else is out."
That could change soon. O'Neal (sprained left wrist) and Wilcox (right adductor strain) both left last Monday's game in Dallas, but we should find out on Monday what the prognosis for both players is, as well as whether Bass is ready to rejoin the lineup after sitting out the last six games.
One thing to keep in mind is that Rivers has stressed patience amidst the losing streak because of the fact that Boston has rarely had a healthy lineup. There might be an urge to stick with the more familiar starting group in order to see if simply having a healthier bench allows the team as a whole to avoid lapses.
Even still, with the Celtics riding a Big Three-era worst five-game losing streak and clinging to the eighth seed in the Eastern Conference coming out of the All-Star break, a change is something the team must at least consider. A lineup change would be far less invasive than a mid-March trade, or it might justify the need to explore that avenue more.
[Your turn: What lineup swap(s) would you like to see Boston make in the second half? Sound off in the comments section.]