Boston Celtics coach Brad Stevens could sleep soundly Wednesday night for maybe the first time since his team's daunting five-game road trip began.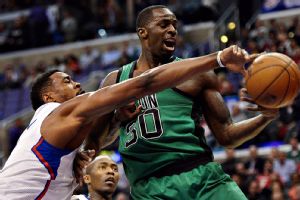 Robert Hanashiro/USA TODAY Sports
Brandon Bass and the Celtics made progress Wednesday.The Celtics found their missing effort in Los Angeles, refusing to roll over against the Clippers when the game threatened to get away from them early, just as it did in recent lopsided losses to the Oklahoma City Thunder and Denver Nuggets. No, this time around the Celtics fought back, surging ahead briefly in the third quarter then making a spirited charge late in the fourth frame before absorbing a 111-105 defeat at the Staples Center.
It's a start, as Stevens cautioned. His team still has lost six straight and nine of their last 10, but take away a sloppy stretch midway through the first quarter and Boston was competitive on the second night of a back-to-back against one of the better teams in the Western Conference. As silver linings go, that's got to count for something.
The fact that Boston responded like it did Wednesday is encouraging because it suggests that this team genuinely wants to play hard for Stevens. These Celtics could have checked out mentally again as the Clippers embarked on a dunk-heavy 18-0 run in the first quarter, feasting on four careless Boston turnovers while building a 16-point lead with 3:02 to play in the frame.
Instead, Boston dusted itself off and resolved to chip away, getting within four by halftime and a little surge midway through the third quarter had the Celtics out front 70-69 with 6:31 to go. Even after the Clippers pushed their lead back up to 16 in the fourth quarter, Boston kept coming. Down 10 with two minutes to go, Stevens coached to the finish line and his troops responded in kind, surging within four with 19 seconds to play and forcing the Clippers to do just enough to emerge with the win.
Stevens won't be kept up late searching for answers and ways to prod his team. There was no need to stick a tape recorder in front of Gerald Wallace after Wednesday's game. Stevens and his staff will spend Thursday trying to figure out how the Celtics can build off this, particularly with another daunting back-to-back looming with games against Golden State and Portland to wrap up this five-game trip. This is a step in the right direction, but only if Boston can build off of it moving forward.
Stevens noted how he sat down with rehabbing point guard Rajon Rondo on Wednesday and discussed how to endure a losing stretch like this, something he never navigated at the college level.
"This is hard. This is really hard," Stevens said. "It's not something that I enjoy. I don't think it's something that any of our guys enjoy. I sat down with Rondo [Wednesday], he's been through the ultimate highs and ultimate lows of this. I think, at the end of the day, we would like to get the result we want, but more than anything as a basketball coach, and as a guy who loves basketball, I want to play well. I just want to play like a basketball team should play."
More often than not on Wednesday, Boston played like a basketball team should play. Few East Coast viewers likely stayed up to watch the final two minutes, and many West Coasters had already fled the Staples Center by the closing moments, but Boston's late attempt at a rally was especially encouraging. Stevens used up his stash of timeouts to draw up plays and his players gave maximum effort while whittling a double-digit lead to four with a chance to make it a one-possession game with less than 20 seconds to go.
That burst, meaningless at it may seem, offers just a small reminder to Boston of what it's capable of when locked in. The Celtics made Los Angeles work a little harder than it wanted to in order to close out the win. Boston finished strong, giving itself something to build off moving forward.
Stevens confidently shuffled his starting lineup Wednesday, inserting Kris Humphries while looking to give Boston a little jolt of energy and effort out of the gate. Humphries logged 31 hustle-filled minutes, enduring a Blake Griffin poster dunk for his troubles, but gave Stevens what he was looking for. Jared Sullinger shuffled to a reserve role and played limited minutes (probably not a bad thing for his injured hand and his escalating flagrant foul tally) and rallied behind Humphries and his energy-filled play.
It was Humphries who, while discussing New Year's resolutions near the end of calendar year 2013, referenced the expression that a journey of 1,000 miles begins with one step. For the Celtics, this 3,000-mile cross-country journey is finally moving in the right direction after Wednesday's effort.
There's plenty of room for improvement, but it's a start.