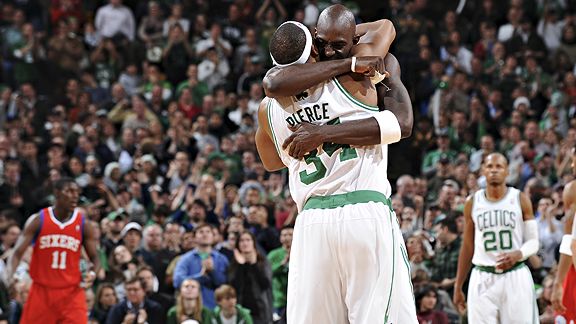 Brian Babineau/NBAE/Getty Images
KG's always got an extra hug for a teammate in need.With Valentine's Day upon us, ESPN's Louise K. Cornetta asked Boston athletes which of their teammates most needed a hug. Check out the responses of the Celtics below (and see more from the Bruins and Red Sox in the full story):
Delonte West, Celtics guard: "There's all grown men in here. Me? I don't need no hugs, you know what I'm saying? The going gets tough, the tough get going. I don't need no hugs. I do push-ups. I hope no man in here needs no hugs. I got enough hugs as a baby. I don't need no hugs now. Once I left the house, there weren't no more hugs for me. When I get sad, I punch brick walls. So no one needs a hug on this team. It's all grown men here. It's all soldiers in here. Ain't nobody hugging in here."

Kendrick Perkins, Celtics center: "Each day is a different person. Each day a different person comes in with a different attitude and you can tell they need a hug. I don't know who it is today. Might be Nate [Robinson], might be Big Baby [Glen Davis], or might be KG [Kevin Garnett] if I had to pick today."

Glen Davis, Celtics forward: "KG, because he's so energetic."

Nate Robinson, Celtics guard: "I say D-West [Delonte West] because the history of all the bad things people try and say about him. Well, he's a good guy. So my pick is him."