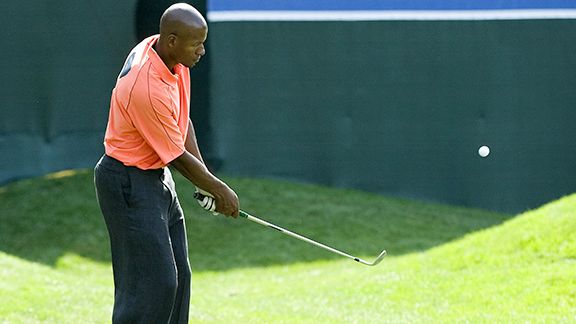 AP Photo/Stew Milne
Ray Allen will be one member of the C's on the course Thursday.The Boston Celtics will take to the fairways Thursday for the 3rd annual Celtics Shamrock Classic at Granite Links Golf Club in Quincy. Players expected to be in attendance include Shaquille O'Neal, Ray Allen, Nate Robinson, Avery Bradley, Oliver Lafayette, and Tony Gaffney. Coach Doc Rivers and president of basketball operations Danny Ainge are also expected to play.
We'll be out there this morning and relay any news and notes (and hopefully some video) from the event.
More from the team's press release:
The Boston Celtics' Shamrock Foundation will host the third annual USI Shamrock Classic, presented by Old Mutual and Consolidated Printing on Thursday, Sept. 23, 2010 at Granite Links Golf Club in Quincy. The tournament will feature The Parquet Putting Contest presented by Arbella Insurance.

The tournament will be followed by a brief dinner and awards program featuring a live and silent auction. All proceeds from the event will go to the Boston Celtics Shamrock Foundation which benefits Perkins School for the Blind, Children's Hospital, Horizons for Homeless Children, the Massachusetts Society for the Prevention of Cruelty to Children (MSPCC), and Berklee College of Music.
***
Mass. Lottery
The Celtics and the Massachusetts State Lottery unveiled a new instant-win game Wednesday with prizes that include a chance to play on the famed parquet floor at the TD Garden. If you love press releases with plenty of basketball puns, this one's a slam dunk from the Lottery:
Treasurer Timothy P. Cahill, Boston Celtics Co-owner Wyc Grousbeck, Celtics President Rich Gotham and Celtics Legend Cedric Maxwell unveiled the ticket at the team's headquarters in front of their 17th championship trophy.

"This is a 3-pointer for the Commonwealth," said Treasurer Timothy P. Cahill, chairman of the Massachusetts State Lottery Commission. "We will raise millions for our communities, reward our players with incredible prizes and create a great deal of excitement for Celtics fans."

Celtics Cash, a $2 game, boasts more than $20 million in prizes including second-chance drawings for incomparable game seats, authentic Celtics gear and ultimate fan experiences. During the run of the instant ticket, 150 winners will win the opportunity to play on the parquet floor before a home game. Five lucky additional winners will participate in the Parquet Floor Challenge, an on-court contest with a $25,000 grand prize.

...

"There is nothing more exciting than to see someone win big on the parquet floor," Lottery executive director Mark Cavanagh said. "Our winners will not only get to play on the court, they are also guaranteed to take home thousands of dollars – even if they miss their free throws."
Click HERE to read more.
Layup line
And here's some other Celtics headlines:
Landry room: Marcus Landry, acquired by Boston in the five-player swap that brought Nate Robinson to Boston at the trade deadline and later waived, has been invited to camp with the Sacramento Kings (where his brother, Carl, is a star forward). Landry appeared in one game for Boston, missing both shots he attempted in three minutes against Cleveland on Feb. 25. He then spent 13 games with the Maine Red Claws before being waived to pave room for Tony Gaffney and Oliver Lafayette.

Party with Shaq? The Greatest Bar is promoting the "The Official 2010 Shaquille O'Neal Welcome to Boston Party" next Monday night. Doors open at 10 p.m.; Celtics training camp opens in Newport, R.I. just hours later.

Lockout looming: Larry Coon breaks down everything you need to know about the potential work stoppage next season.