BOSTON -- For Brad Stevens, the toughest part of joining the Boston Celtics was leaving his players at Butler University. That included the recruits who were about to join the program like Elijah Brown, son of current Cleveland Cavaliers coach Mike Brown.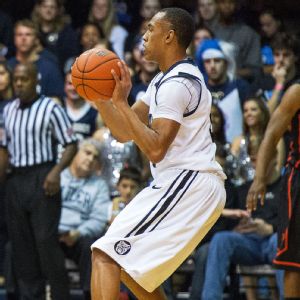 Zach Bolinger/Icon SMI
Butler freshman Elijah Brown.Stevens said he tried to be honest with the Brown family during the recruiting process, noting it would have to be an "extremely unique situation" for him to leave Butler. Alas, that opportunity came in July when the Celtics hired Stevens to replace Doc Rivers.
Stevens phoned Elijah Brown the night that his hiring was announced, shortly after an emotional meeting with his own players, to inform him of the news and said the younger Brown received it well.
Mike Brown, in town with the Cavaliers on Friday night, confirmed that sequence of events and praised the way Stevens handled the situation.
"Brad is such a class guy and, when he did leave, I don't know if you can handle it any better," said Mike Brown. "Elijah has been through a lot of that type of stuff, but Elijah told me –- and he's going to get mad because I said it this way, but he's so cute -- he called me and said, 'Dad, when [Stevens] told me, my knees buckled and I thought I was going to faint.' He said, 'But Dad, I locked my knees and I stood strong.' I was like, 'Good job, buddy.' We talked it through and we understood.
"It took [Elijah] a little bit to process it and, at first it didn't seem real because Brad is a likable guy, obviously, and that was one of the major reasons why Elijah chose to go there. But there are other things that make Butler attractive, too. It was tough, but it was something that we were able to get through because Brad made it as easy as possible on guys. I called Danny Ainge and Danny told me, 'Hey, I'm sorry for screwing with you, and, because of that, we'll take [Elijah] in the second round when he comes out [of college].' I also called Doc [Rivers] too, and I said, 'Doc, you caused this whole thing because you left.' Doc said, 'Well, if Boston doesn't take him, we'll take him here in L.A.' So I've got him covered."
Elijah Brown, now a 6-foot-4 freshman guard at Butler, is averaging 7 points, 2 rebounds and 1 assist over 18.4 minutes per game. Stevens joked that both he and Mike Brown "both had an eye on that game" Friday as host Butler nearly took down No. 5 Oklahoma State. Elijah Brown scored a season-high 15 points in the game.
Looking back now, Mike Brown can laugh a bit at the situation. Earlier this year, rumors swirled that UCLA was interested in Stevens for its basketball opening and, later, Brown's name was rumored for the same job after he was fired by the Los Angeles Lakers. All of which added a wrinkle to Elijah Brown's recruitment.
"Elijah had committed to Butler and I was in L.A. and I was out of a job and we were planning on moving back to Ohio and then, the next thing you know, the UCLA job opens and the USC job opens and you hear all these rumors and I'm thinking, 'Oh my gosh, Brad is going to leave. He's going to leave,'" said Mike Brown. "And the next thing I know, I get a call from Brad and he says, 'Am I losing a recruit?' I said, 'What are you talking about?' ... He goes, 'Is his dad going to UCLA and you're taking him with you?' I'm like, 'No, I thought you were going to UCLA!' He was like, 'No, I thought you were going to UCLA!' We were both like, 'Phew!'"