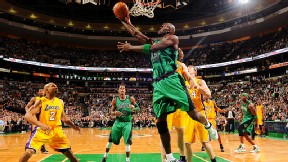 Brian Babineau/NBAE/Getty Images
Kevin Garnett should reach a prestigious milestone Thursday vs. the Lakers.Boston Celtics center Kevin Garnett is set to become the 16th member of the NBA's prestigious 25,000-point club. Sitting six points shy of the milestone, he is all but certain to reach it during Thursday's visit from the rival Los Angeles Lakers.
With help from our friends at ESPN Stats & Info, here are a couple interesting ways to examine Garnett's point output, including his top helpers and where his points came from on the floor. (Note: Does not include Garnett's 1995-96 rookie season because some data wasn't tracked.)
First, a look at the players who assisted Garnett's scoring with point totals:
GARNETT MOST POINTS BY TEAMMATE ASSISTS
And a look at Garnett's favorite shooting spots on the floor:
GARNETT POINTS BY AREA ON FLOOR
As Stats & Info points out, the 25,000-point club essentially ensures enshrinement in the Hall of Fame. All 15 players to have previously reached the milestone are in the Hall, or are slam dunks to be there down the road (Kobe Bryant and Shaquille O'Neal).