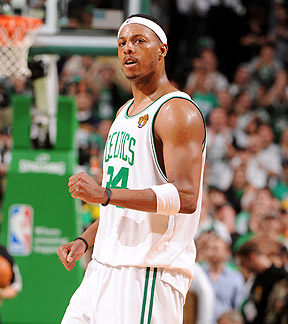 Andrew D. Bernstein/NBAE/Getty
Who's the NBA Finals MVP if the Celtics claim Banner 18?LOS ANGELES -- Late in the fourth quarter of Tuesday's Game 6, a glove-clad NBA official will carry a cloth-covered Larry O'Brien trophy into one of the tunnels leading to the Staples Center court in preparation for potential distribution should the Boston Celtics be in position to prevail.
Staffers will clutch championship hats and T-shirts with specific instructions on what goes where. Champagne will be on ice in the Boston locker room. It's a very coordinated effort to ensure everything goes smoothly in the chaos to follow.
Another NBA official will clutch the Bill Russell Finals MVP trophy, but unlike her peers, she likely won't have a clue where that's about to end up.
Even as the Celtics sit on the cusp of their 18th world championship, carrying a 3-2 series edge into Tuesday's clash with the Lakers, not a single Boston player has distinguished himself as the frontrunner for the coveted MVP award. You could easily make a case for any of the Big Three, Rajon Rondo, Glen Davis, or, heck, even Tony Allen given his lockdown defense against the one player who might actually deserve the MVP most, Kobe Bryant.
The only year a player from the losing team earned the Finals MVP was the award's inaugural year in 1969, when the Celtics stunned the Lakers, but Jerry West walked away with the honor. Could we see a repeat 41 years later?
Probably not. Voters are likely to reward the Celtics player that steps to the forefront on the clinching victory. Here's a quick player-by-player look at Boston's top candidates going into Game 6:

PiercePaul Pierce: Boston's top scorer in the Finals at 19 points per game, Pierce is finding his rhythm at the right time. He scored a team-high 27 points in a pivotal Game 5 triumph and, while he certainly struggled to find his shot early in the series -- thanks in large part to Ron Artest's stifling defense -- he has been the team's most consistent offensive player. Sure, Pierce only had 10 points in Game 2, but Ray Allen was on fire and the Celtics gave the ball to the hot hand. Pierce's biggest motivation: His legacy. As MVP, the Inglewood native wouldn't just celebrate a world title in the shadow of his hometown, but he'd join Larry Bird (1984, 1986) as the only two-time Finals MVP winner in franchise history. Currently, Pierce sits in a crowd with one Finals MVP to their credit in Cedric Maxwell (1981), Jo Jo White (1976), and John Havlicek (1974).

RondoRajon Rondo: A triple-double in Game 2 made Rondo the early favorite for the MVP award, but he blended into the background at times during Games 3 and 4. Despite some highlight-worthy moments in Game 5, Rondo did struggle, matching a career postseason high with seven turnovers that helped keep Los Angeles in the game. That said, it's hard to complain about a performance where he posts 18 points and eight assists. Working against Rondo: He's having a rough shooting performance in the Finals, both in his field goal percentage (47 percent, down from 50.8 in regular season) and free throw percentage (60.9 percent, down from 62.1 percent in regular season).

GarnettKevin Garnett: The Big Ticket certainly didn't look like an MVP at the start of this series. Abused by Pau Gasol in Game 1, Garnett then endured foul trouble that limited him to 24 minutes and totally took him out of Game 2. He broke out with 25 points on 11-of-16 shooting in a Game 3 loss, but hasn't dominated the way he seems capable of this series. If the Celtics get him 25 shots in Game 6 -- and if Andrew Bynum is limited by that injured right knee, why wouldn't Boston continue to go right at the rim where they enjoyed so much success in Game 5 -- Garnett could sneak away with the honor (which would also be a bit of a lifetime achievement accomplishment).

AllenRay Allen: OK, calm down. We know you're screaming at your computer screen that Allen's only had one good game (setting an NBA record with eight 3-pointers in a monster Game 2 triumph), but if he produces another extraordinary effort, Allen will have almost single-handedly won two of the four Finals victories overall.
Colleague John Hollinger made the case

after Game 5 that Kobe Bryant deserves to be the MVP:
Of course, the MVP doesn't have to come from the winning team. While this isn't the letter of the law, it's been an unwritten rule for the past four decades -- every Finals MVP since 1969 has come from the winning team. Alas, every rule has its exception, and after Sunday night's 38-point effort we may be looking at one in the form of Kobe Bryant.

While the Celtics deserve their 3-2 lead in the series, there's no question who the best player has been over these first five games. That point was driven home with a sledgehammer in Game 5 when Bryant scored 19 points in the third quarter only to find the Celtics' lead had increased when he was done.

This continued a Finals in which Bryant has had at least 20 points in every game, has had only one game that possibly could be construed as somewhere close to ordinary (Game 2), and has had a pair (Games 1 and 5) in which he was absolutely spectacular.

For the series, Bryant is averaging 30.2 points per game; no other player is averaging more than 19. He's done it reasonably efficiently too, with a 55.2 true shooting percentage in a series in which the average has been 53.4. That's amazing considering the difficulty of the attempts he's taken, especially in Game 5.
Later Hollinger notes that there's really no other competition or the award.
If you're not sold on Bryant's MVP case yet, then consider the alternative. If not Kobe, who?

Rajon Rondo, who has yet to have a 20-point game and is 4-for-15 from the free throw line in the series? Ray Allen, who made a record eight 3-pointers in Game 2 but is 0-for-18 from distance in the other four games? Paul Pierce, who didn't become a factor in the series until Game 4? Kevin Garnett, who had only six points in Game 2 and has played only 30.8 minutes a game for the series?

The fact is Bryant has been by far the most productive player, and the only reason the Celtics are ahead is because five of the next six best players (the four above and supersub Glen Davis) have been wearing green. If series MVP voters are using their heads and not their hearts, Bryant is an obvious pick even with his team trailing.

There's an irony here, of course. I mentioned above that only one player has won Finals MVP in a losing effort; it was Bryant's idol and mentor, former Lakers star Jerry West. Wait, there's more. It came in the 1969 Finals … against the Celtics … against a veteran Boston team, in fact, that had won only 48 games and was seeded just fourth in the Eastern Conference at the start of the playoffs. L.A. ended up losing Game 7 at home despite 42 points, 13 rebounds and 12 assists from West.
Click HERE

to read the full story.
Who's your pick for Finals MVP?