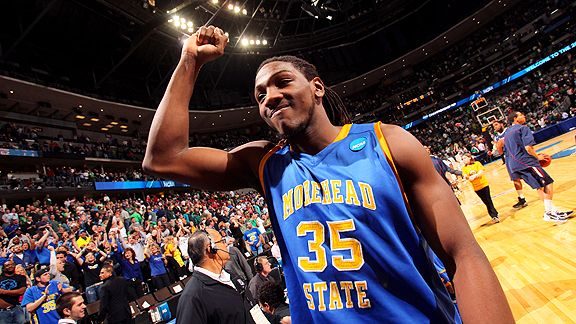 Doug Pensinger/Getty Images
If the Celtics are looking for a rebounder, they could do worse than Kenneth Faried.We'll dive into more draft coverage in the month of June once our report card series ends, but we had to pass this along. Clearly one of the areas Boston needs help in is defensive rebounding. Well, one of the players that Celtics fans probably wouldn't mind seeing slip down the board is Morehead State's Kenneth Faried.
Faried was the NCAA's top rebounder last year and Chad Ford's latest mock pegs him to go around No. 21. Could he slide into the range where Boston might have a shot at him? That remains to be seen, but ESPN Stats & Info wizards Pete Newmann and Dean Oliver examined Faried's production and provided this fantastic breakdown of Faried's potential last week and noted his rebounding was downright Shaq-like in college:
Morehead State is a relatively small school, about 9,000 students, located in Morehead, Kentucky. And Kenneth Faried did his best to put Morehead State on the national landscape as a basketball power.

Faried led the nation in rebounding in the 2010-11 season, averaging an astonishing 14.5 rebounds per game. His rank has improved and his rebounds per game have improved each year:

Season -- RPG -- NCAA Rank

2010-11 -- 14.5 -- 1

2009-10 -- 13.0 -- 2

2008-09 -- 12.8 -- 3

2007-08 -- 8.0 -- 72

Faried also led the NCAA in Player Efficiency Rating (PER) during the 2010-11 season. Faried's PER was 34.77. The average player has a PER of 15 and the second-best PER in his own conference was just 23.2. So, Faried was the most efficient player in the country. That's usually a good sign. Last year, the top collegiate PER belonged to DeMarcus Cousins, who was the No. 5 pick in the 2010 Draft and averaged 14.8 points and 8.6 rebounds in his rookie season.

If advanced metrics tell us anything about using collegiate statistics to help project future NBA success, it is that the single statistic most likely to translate to the next level is rebounding. And in Faried's four seasons at Morehead State, he averaged a rebound every 2.37 minutes, which is the third-highest rebound rate in the last 30 years:

Player -- Mins. per rebound

Shaquille O'Neal, LSU -- 2.25

Keon Clark, UNLV -- 2.26

Kenneth Faried, Morehead -- 2.37

Granted, Faried did this at tiny Morehead State, but he grabbed a rebound every 2.8 minutes against teams in major conferences, too. Current NBA starting power forwards typically haul in a rebound every 3.4 minutes when they were in college, so Faried is far better than average in this, his specialty.

Faried also got a steal or block every 8.5 minutes at Morehead State. Against major opponents, it was one every 10.0 minutes. Those two statistics paint a picture of someone who can really do the dirty work.

Of the players who compare well to Faried, chances are that you know a few. How about DeMarcus Cousins, Hakeem Olajuwon, Shawn Marion, Jerome Kersey or Antonio McDyess?

With solid rebounding and the ability to accumulate steals and blocks, the biggest question about Faried is his offense. Faried's offensive statistics don't jump off the page, averaging 14.8 points per game and shooting 56.9 percent from the field, but these are numbers very comparable to those of Jerome Kersey. The Blazers drafted Kersey with the No. 46 overall pick in the 1984 NBA Draft. Kersey played at Longwood, which was actually Division II back in the early 1980s when he was there. Kersey has statistics remarkably similar to Faried, averaging 57.0 percent from the field, scoring 17 points per game, getting a rebound every 2.6 minutes, and a steal or block every 7.7 minutes.

If Faried ends up with a 15-year career like Kersey, playing rotation to starter minutes, is that worth a lottery pick? Probably so.