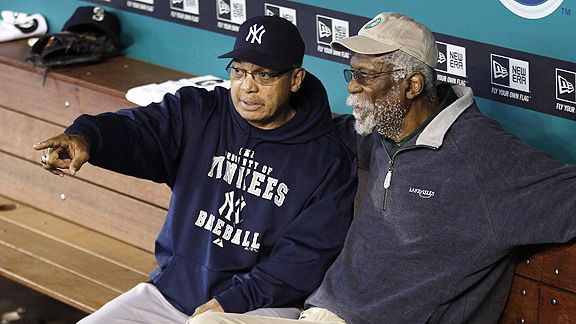 AP Photo/Ted S. Warren
Bill Russell and Reggie Jackson chat in the Yankee dugout Friday night.SEATTLE -- Former Boston Celtics great Bill Russell, probably the only professional athlete ever to throw out the first pitch at a New York Yankees game who has more championship rings than Yogi Berra, did the honors before Friday night's Yankees-Mariners game at Safeco Field.
The 77-year-old Russell, a member of 12 Celtics NBA championship teams and a Seattle resident, bounced his pitch to the Mariners diminutive Chone Figgins, and then posed for a comical photo next to the 5-foot-8 utility man, who is 14 inches shorter than Russell.
Russell appeared in connection with the Mariners African-American Heritage Night celebration.