WALTHAM, Mass. -- The freckles beneath his eyes hint at his connection to the Boston Celtics and when Arizona's Nick Johnson was asked what it meant to be working out for the team, his eyes shot skyward and scanned Boston's championship banners and retired numbers before landing on his uncle Dennis' No. 3.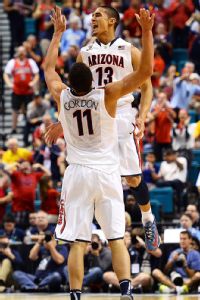 Ethan Miller/Getty Images
Arizona's Nick Johnson is the nephew of former Celtics great Dennis Johnson."I came in here last night, it was a great feeling," Johnson said earlier this week after working out for the Celtics at their training facility. "I had never been here; actually, I've never been to the Garden or anything. It was great, just coming in here, looking at the numbers, the retired jerseys, the championships banners. It was a great feeling."
Johnson, a 6-foot-3 combo guard, is projected as a potential second-round pick in the 2014 NBA Draft. He's insanely athletic, accentuated by a vertical that's been measured as high as 47 inches (a hand-me-down from his father "Jumping" Joey Johnson, who played professionally overseas). But Johnson's got a little bit of his uncle's tenacity in him, particularly on the defensive end, and he's ready to play with the same chip on his shoulder as his Hall-of-Fame bloodlines (Dennis was a second-round pick for Seattle in the 1976 draft before going on to win three NBA titles, including two with Boston).
Johnson said he grew up a Celtics fan given that his uncle played his final seven seasons here. But Johnson was only 14 when Dennis passed away in February 2007 and hadn't gotten serious about hoops at that point. In fact, it wasn't until more than a year after Dennis' untimely passing that Johnson really immersed himself in learning about his uncle's career.
"The first time I really really watched [Dennis on film] was when the Celtics-Lakers played again [in the 2008 NBA Finals]," explained Johnson. "They started showing all the old games between Magic [Johnson] and Larry [Bird] and everything. It was great to watch that, and that's really the first time I got to watch extensively and see what he brought."
Maybe it's what he saw in his uncle's play that helped steer Johnson towards being a defense-first guard (DJ was a nine-time member of the league's All-Defensive team, including six first-team honors). As his father Joey told the New York Times earlier this year: "I see a lot of Dennis in Nick. He's his type of player. I think he would be proud of him."
For Johnson, Boston isn't just another box on a tireless pre-draft travel checklist. Distant family members reached out to him before Monday's visit, which was already his fifth team workout (and he expects to conduct at least seven more ramping up to the draft later this month). Johnson is coming off a strong junior season at Arizona where he averaged 16.3 points over 33 minutes per game. He has range beyond the 3-point arc, but he's still working to harness his leaping ability on the offensive end. His defense isn't in question, but he'll be labeled as undersized compared to some of the NBA guards he'd be tasked with defending.
"[Teams] pretty much know what they are getting in me," said Johnson. "Everybody knows I'm a pretty high-character guy, with a defensive base. One of the things I've been telling teams and they recognize is that I can come in from Day 1 and defend. That's a big thing in the NBA. I think that's one of the biggest things I can do. And just continuing to grow my offensive game."
The Celtics don't currently own a second-round pick in the 2014 draft, but bought one last season (to nab Colton Iverson) and always operate with an open-mindedness about securing picks if players they like remain available. Celtics president of basketball operations Danny Ainge told NBA.com of Johnson: "Had someone not told me, I would never have known that it was DJ's nephew. But I've followed Nick's career. He's a good kid and a good player. He's an athlete like his father and his uncle."
Ainge and the Celtics' front office certainly saw a lot of Johnson this season, in part due to their scouting of lottery prospect Aaron Gordon. The Celtics, who own the sixth overall pick, are expected to bring Gordon to town as part of the team's workouts for some of the draft's bigger names next week and Johnson did his part in selling his college teammate.
"I think he'll be a great player," Johnson said of Gordon. "Definitely a possibility to come here. I'm not sure, I know they pick around [the time Gordon is expected to be selected]. It was great playing with him. He's the youngest kid in the draft, but you wouldn't know it from talking to him, and listening to him talk and watching him work out. He's got so much room for improvement, I know he's going to make those leaps. He's a great kid, but he works his heart out."
Gordon and Johnson together in Boston? That's the stuff of storybooks. And while Johnson recognizes that playing in Boston would make for a great storyline, he's just hoping to find a home in the league.
"It would be a great honor to be here, I've been a lifelong fan -- since I've been born really because of my uncle," said Johnson. "It'd be a great honor. But I'm a basketball player and my ultimate goal is to play in the NBA."