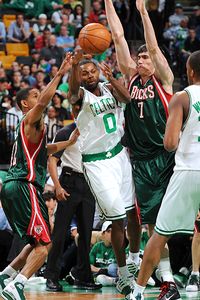 Brian Babineau/NBAE/Getty
Guard Oliver Lafayette was dismissed as the Celtics shape their roster heading into training camp next week.The Boston Celtics waived guard Oliver Lafayette Friday, according to the Boston Herald.
Signed on the final day of the 2009-10 regular season, Lafayette appeared in one game for Boston, registering seven points, four rebounds, and two assists over 22 minutes in a loss to the Milwaukee Bucks. The 6-foot-2 combo guard had hoped to compete for a spot on the 15-man roster at Celtics' training camp, but faced long odds with a non-guaranteed deal and increased depth at the guard position.
Despite Lafayette's strong showing with the Celtics' summer league squad in Orlando in July, Boston signed veterans Nate Robinson and Delonte West this summer and drafted Avery Bradley, a trio with potential to play both guard spots behind Rajon Rondo and Ray Allen.
A lack of depth at the wing is likely to promote the only competition at the back end of the roster when Celtics' training camp opens Tuesday in Newport, R.I. That's why Tony Gaffney, also signed to a non-guaranteed deal on the final day of the 2009-10 regular season, remains with the team as he is likely to challenge for one of those 15 roster spots, especially being a defense-first player.
Both Gaffney and Lafayette expressed a desire to battle for a spot on this team earlier this month. And while Lafayette admitted he had no immediate backup plan ("I put that all on my agent. My focus is just on making this team," he said), the early dismissal gives him a chance to latch on with a team that isn't overflowing with veteran talent.
Lafayette spent the past two seasons in the NBA Development League. He said last month he hopes all the hard work he's put in since being signed by Boston will lead to a job in the NBA next season.
"I've got the mindset that you just have to keep working hard and all that stuff you worked on in the summer will pay off later," Lafayette said. "I have to keep my focus. There's not a lot of roster spots, but with a great team, you wouldn't expect a lot of spots. Everyone is trying to play for a championship and lots of veterans are coming to the Celtics now."
It will be interesting to see if Lafayette's departure entices the Celtics to bring another veteran player to camp, particularly one that could join the competition at the wing spot. The team worked out Rashad McCants, Trenton Hassell, and Cuttino Mobley, as part of a revolving door of free agents to visit its practice facility in advance of camp.