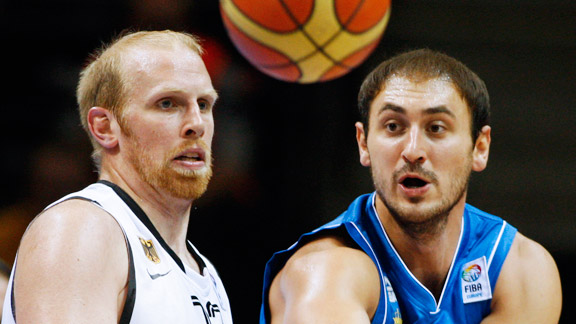 AP Photo/Petr David Josek
Former Celtics center Nenad Krstic is competing internationally this summer and beyond.With Nenad Krstic signed to play in Russia, Semih Erdin dealt to Cleveland and Carlos Arroyo a non-factor, the Celtics don't have anything to worry about with the Olympic qualifiers.
MAY: C'S HAVE NO CONCERNS IN QUALIFIERS
As Danny Ainge and Doc Rivers try to lower their golf handicaps and spend more time with the family this summer, here is one thing neither fellow need worry about in the next two weeks: a call from South America or Europe telling them one of their players has been injured while competing in an Olympic qualifying tournament.

Ainge and Rivers are part of a select group in that regard. The Boston Celtics are one of a handful of NBA teams without a player in either the 24-team Eurobasket Tournament in Lithuania, or the 10-team Tournament of the Americas in Argentina. Both tournaments, which will produce two qualifiers each for the London Olympics next year, began this week.

The only participants in either tournament with recent Boston ties are Carlos Arroyo, who is back in his familiar position as one of the stalwarts for the Puerto Rican national team, and Nenad Krstic, playing for Serbia. Arroyo is a free agent and, given how the Celtics buried him in the playoffs, would not appear to be a serious candidate for a return to Boston whenever pro basketball resumes. Krstic has signed to play for CSKA in Russia next season.
* Forsberg's thoughts: On the one hand, at least Semih Erden gave us something to watch during last year's FIBA tournament. This time around, Celtics fans should enjoy the peace of mind that comes with no star players risking injury. Alas, it'd be fun to actually have some Celtics-related basketball to watch and, well, there's no NBA season in sight for Celtics players to injure themselves for.