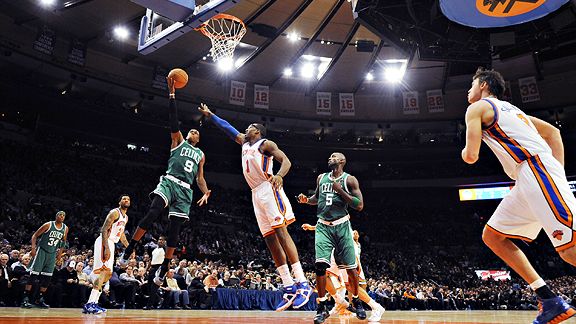 Lou Capozzola/Getty Images
It's Boston vs. New York in the first round of the NBA playoffs.The third-seeded Boston Celtics will joust with sixth-seeded New York Knicks in the opening round of the Eastern Conference playoffs.
By virtue of Boston's overtime loss Monday to Washington, coupled with both Miami's win over Atlanta and Orlando's triumph over Philadelphia, the East seeds were finalized, setting up one side of the NBA playoff bracket. Top-seeded Chicago battles eighth-seeded Indiana; Second-seeded Miami tangles with seventh-seeded Philadelphia; and four-seeded Orlando renews acquaintances with fifth-seeded Atlanta.
The Celtics are 3-0 against the Knicks this season, but all three meetings were wars. Boston defeated New York, 105-101, at the TD Garden in late October. Boston needed a last-second Paul Pierce jumper to win 118-116 at Madison Square Garden in December, then rallied out of a monster hole to prevail 96-86 in a bloodbath last month in the Big Apple.
The two teams meet in both sides' regular-season finale Wednesday night in Boston.