BOSTON -- Truth be told, after feeling the energy inside TD Garden on Sunday night, Boston Celtics first-year coach Brad Stevens finds himself wondering at times what it might be like to play in that environment when his team has restored itself to contender status.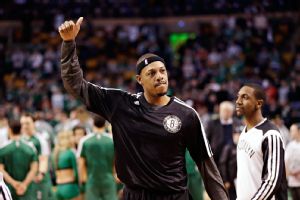 AP Photo/Steven Senne
Paul Pierce returned to Boston Sunday as a member of the Nets.On this night, however, the buzz surrounded the opposition as Paul Pierce and Kevin Garnett returned to Boston for the first time since being traded to the Brooklyn Nets during a summer blockbuster that ushered in the Celtics' rebuilding process.
Stevens appreciated the way Boston fans responded to Pierce and Garnett and saluted them for their accomplishments here, including restoring championship basketball with Banner 17 in 2008.
"The only thing I could say is what I said on the bench, and that is, 'This town gets it,'" Stevens said. "You know, this town is special and you can see why. And all the people that have gotten a chance to play here and that you talk to, whether they played here for a year or whether they played here for 15 years, all talk about how special it is. And you know that coming in, but you can feel it on nights like tonight. And it was really a great tribute to both guys, obviously extremely well-deserved. I wish we could've come out on top at the end, but we just didn't quite have enough from a basketball standpoint to finish it."
Pierce and Garnett providing key late-game baskets as the Nets withstood Boston's late rally and emerged with an 85-79 triumph.
True to his word, Stevens rushed his team out of the huddle twice in the first half to allow his players an opportunity to see the tributes to Garnett and Pierce, and applaud those players for what they did for the organization.
Asked what Garnett and Pierce might have been thinking during the tributes, Celtics captain Rajon Rondo replied, "If you know those guys, they're competitors. Obviously, they're very grateful for this opportunity to play and become a Celtic and the years they've had here. They left a great legacy. But they're locked in. They respect what happened, with their acknowledgement, their video tribute. But, like I said, they still came focused, ready to play."
The tribute certainly didn't soften Garnett all that much, as he spewed plenty of trash talk toward his former teammates.
"It wouldn't be a game if KG did not smack talk, but it was to a minimum," Brandon Bass said. "He usually does more."
Even in the heat of battle, Stevens reaffirmed that it was important to him for his players to join in the adulation of Boston's former stars.
"It's the right thing to do," Stevens said. "We see this now, and we can talk about this now, it's hard when you're in the moment and you're coaching the team, but there are bigger things than the next possession. Not much in my life is bigger than the next possession, but that is and we'll honor that appropriately."
Read on for more postgame notes (including a fizzling final play; another 10-day for Chris Johnson?; and Vitor Faverani's trip to Burger King in Maine):
FINAL PLAY FIZZLES: The Celtics had the ball in the closing moments with a chance to tie the game, but Garnett picked off a Rondo pass and streaked the other way for a layup that helped clinch the win for Brooklyn. Asked about the final sequence, Stevens said, "We were trying to bounce back Jeff [Green] into the corner. We ran a variation of it the play before, and curled Jeff to the rim. [Andrei] Kirilenko went under the screen and we tried to jam in for him -- it might have been open for a split second, but probably a good decision not to throw it, but then get it to Rondo to play in space. And [Kris Humphries] kind of set a ball screen and Bass came and followed with another, and our spacing was really good on that play; I just watched it again. We just weren't able to make a play, and that happens sometimes. I thought we were where we needed to be, but we weren't able to manufacture it. They did a good job defending it."

JOHNSON PLAYS TOWARD STAY: Chris Johnson, playing the final day of a 10-day deal against the team he spent training camp with, registered 12 points on 4-of-6 shooting with four rebounds, an assist and a steal over 28 minutes. Asked if the team would retain Johnson on a second 10-day deal, Stevens said, "I'll sit and talk to everybody about finalizing that, but I would assume that that would be something we'd really look to do. He was great. He's been fantastic and aggressive and just a really good addition." A second 10-day deal would keep Johnson around for at least four more games, at which time the team can decide whether to sign him up for the remainder of the season.

INJURY UPDATES: Avery Bradley (sprained right ankle) and Jerryd Bayless (sprained toe in left foot) both sat out Sunday's game. Their status moving forward? "Bayless is closer than Avery, but I don't know if either one of them plays Tuesday or not," Stevens said. "I would say that Bayless would have a shot." Bradley is expected to be out another week.

FRIES WITH THAT?: The Celtics assigned Vitor Faverani to the Maine Red Claws of the D-League on Saturday, allowing him to head north to get some quick game reps aimed at keeping him sharp for when minutes become available at the NBA level. How did Faverani celebrate his 13-point, seven-rebound performance against the Fort Wayne Mad Ants? He stopped at Burger King at a highway rest station and indulged in a salad with grilled chicken (all while his brother, along for the journey, devoured what Faverani suggested was five burgers). Faverani's trip quenched his thirst for game action and he said he'd be open to future trips to the D-League.