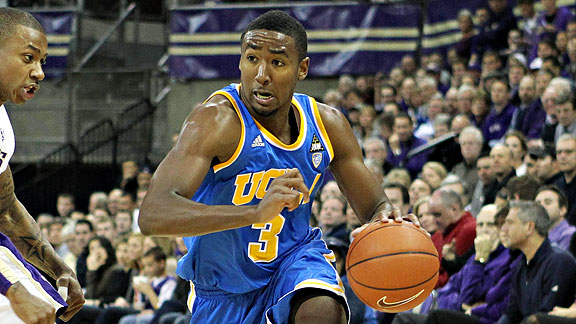 Mike Nelson/US Presswire
UCLA's Malcolm Lee was one of five to work out for the Celtics on Saturday.The Boston Celtics worked out five players Saturday, including UCLA point guard Malcolm Lee, a potential first-round pick the team could eye at No. 25.
Also in town for the backcourt-heavy workout were UMass guard Anthony Gurley, Morehead State guard Demonte Harper, Georgetown guard Chris Wright and Indiana guard Jeremiah Rivers, the son of Celtics coach Doc Rivers.
Lee, a long guard at 6-foot-6, averaged 13.1 points, 3.1 rebounds, and 2 assists per game in his junior season at UCLA. He's got combo guard potential and Chad Ford's scouting report suggests he's actually more comfortable at the 2, but he's got an inconsistent jumper and shot only 29.5 percent from 3-point range last season.
So why the fuss about Lee? Allow Ford to explain: "What do Russell Westbrook, Jrue Holiday, Darren Collison and Arron Afflalo have in common? They were UCLA guards who didn't appear to be great NBA prospects at first glance (Westbrook may have been the exception, but not for everyone) who have gone on to have excellent careers in the NBA. All four were starters on playoff teams this season despite their youth. Here's a prediction: Lee will continue that hot streak for UCLA. Lee was a top-rated prospect coming out of high school but struggled to dominate in college. While he's earned a rep as an elite perimeter defender, his offensive game has been a work in progress."
Combo potential? Elite defender? Sounds a bit like Avery Bradley, but clearly the height makes Lee appealing for a team like Boston that's not necessarily looking for a pure point to back up Rajon Rondo.
None of the other players in town are likely to have their name called any earlier than late second round. Though it would have been interesting to see exactly how the Celtics worked out Rivers, who is no stranger to getting up some jumpers in the Celtics' practice facility.