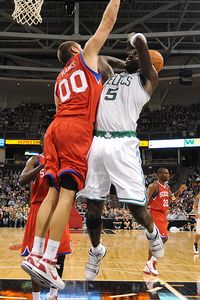 Steve Babineau/NBAE via Getty
evin Garnett had 2 points, 1 assist and 2 rebounds in 15 minutes Wednesday night.The success of the 2010-11 Celtics will be affected by whether or not Kevin Garnett is healthy, ESPN Boston's Peter May writes:
MANCHESTER, N.H. -- The lead story in Wednesday's Union Leader was about the arrival of the Boston Celtics for an exhibition game with the Philadelphia 76ers, with an emphasis on the biggest one of them all -- Shaquille O'Neal.

In size and personality, that is undoubtedly true. Shaq is a presence with a capital P. But the biggest Celtic of them all for the 2010-11 season -- in terms of importance, not sound bites or throwaway lines -- is the same person it was last year, the year before that and the year before that.

His name is Kevin Garnett.

After the Celtics' 93-65 win over the Sixers on Wednesday night, Shaq (eight points) will continue to get the headlines and keep the celebrity/gossip types happy. But if the Celtics are going to make it to where they want to go, they are going to have to do it the way they did it in 2008 and almost did it last season -- with defense. That's where Garnett comes into play.

Or, to be more 2010, that is where a healthy Garnett comes into play.

While coach Doc Rivers is fond of saying that his regular starting five has never lost a playoff series when together, he could amend that to the following: It has never lost a playoff series when Garnett has been healthy.

In Garnett's first season with the Celtics, Boston won 66 games and steamrolled the Lakers in the NBA Finals, and Garnett walked off with the franchise's first defensive player of the year award. He also should have gotten the MVP award that season for the way he transformed the team.

That Garnett might never be seen again. It was, after all, three years ago. But the Garnett of 2010-11 might prove to be a reasonable facsimile, and that has the Celtics quietly hopeful of what lies ahead.
Click HERE to read the full story.