HARTFORD, Conn. -- Floor time is floor time. So when Celtics coach Doc Rivers tapped Avery Bradley to address the fans before Boston's preseason win over the New York Knicks Saturday night at the XL Center, the rookie did the thankless task knowing it'd be the only time he'd be on the court that night.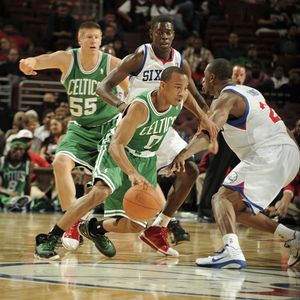 Lou Capozzola/Getty Images
Avery Bradley made his NBA debut Tuesday night against Philadelphia.Rivers said after the game that Bradley's surgically repaired left ankle is still not responding well to rehab and the team is pondering whether to shut him down indefinitely to allow a greater recovery.
For Bradley, it's the latest setback in a frustrating four-month span as he recovers from arthroscopic surgery that was performed on July 2, the same day he inked his rookie deal with the Celtics.
"I'm more upset for him because this is not the way you want to break into the NBA," said Rivers. "Where you're frustrated and you can't play. We probably have to try something else because what we're doing is clearly not working. [Celtics trainer] Eddie [Lacerte] and I talked about it [Friday] night. I don't know what, but what we're doing is not working."
What possible avenues could the Celtics travel?
"It's just so sore, maybe he's just not ready to play right now," said Rivers. "And we may just sit him down and let him do rehab. Maybe we pushed him back too soon."
Click HERE to read the full story.