WALTHAM, Mass. -- Here's example No. 1,472 of Brad Stevens' attention to detail. On a snowy Tuesday in mid-December, Stevens was asked about the team's uptick in rebounding from perimeter players and when that became a point of emphasis.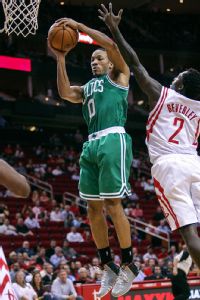 Troy Taormina/USA TODAY Sports
Avery Bradley has been a force on the boards over the last seven games, grabbing rebounds at nearly double his career rate.Without hesitation, Stevens noted it was the first exhibition game against Toronto. You know, the one 72 days and 33 games ago. It ought to feel like a lifetime ago for Stevens in his whirlwind first season in the NBA. But, no, he even rattled off the exact rebounding totals as if it were his wedding anniversary. He'd probably have known the individual breakdown if we had asked for it.
"We got beat 46-26 on the glass by Toronto and from that point on, we had to be a perimeter rebounding team," Stevens said. "And we haven't been great all year, by any means. But any time we need to refocus ourselves, that's usually where we head."
Boston spent much of the first month of the season in the basement of the league in terms of defensive rebound percentage. Even with a late-November surge, the team ranked 25th at 73.4 percent over the first 19 games.
December has been a much better month. Boston currently sits eighth in the league in defensive rebound percentage at 75.9 percent, and that's after giving up a whopping 19 offensive rebounds to the Minnesota Timberwolves on Tuesday night.
What's changed? Boston's undersized frontcourt has put an increased focus on technique, boxing out their taller counterparts, and even when the bigs aren't able to get to the boards, it has allowed the Celtics' perimeter players to swoop in for rebounds.
Consider this: Avery Bradley's defensive rebound percentage for the seven games this month is 14.1 percent. That's a ½ percentage point higher than Jared Sullinger (13.6). Bradley's rebound rate is nearly double his career average (7.7 percent) and he's hauling in 4.1 defensive rebounds per game this month (third best on the team behind Kris Humphries and Brandon Bass).
But it's not just Bradley. Jeff Green, who has rarely been a consistent rebounder, is grabbing 4.0 defensive rebounds per game this month. Gerald Wallace (3.3) and Jordan Crawford (2.9) are doing their part, all while the likes of Sullinger (3.7), Kelly Olynyk (2.5) and Vitor Faverani (1.6) take care of the dirty work.
"I think it's just a team effort," Sullinger said. "If you look at [Friday's win over the Knicks], prime example in the first quarter, I had a rebound but Avery went to go get it. We really didn't have that at the beginning of the year. Our guards kind of depended on the bigs to rebound. Now our guards are getting in the mix.