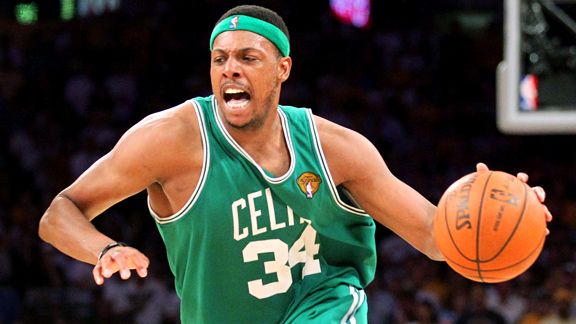 Ronald Martinez/Getty Images
Paul Pierce and the Celtics begin a four-game road trip Thursday in Portland.Boston spent much of its offday Wednesday making the long trek to Portland, where the Celtics visit the Trail Blazers Thursday night in the front end of a back-to-back, kicking off an arduous four-games-in-six-nights road trip.
--IT'S TIME THE WEST WAS WON--

The Celtics are heading out West. To which a seasoned observer might ask, "What took them so long?'' They go where the schedule sends them, and the schedule this season has them making their first real Western excursion in the final week of January. Usually they make their first trip between Christmas and New Year's. As a result, the Celtics will arrive in Portland for Thursday night's game at the Rose Garden having played the fewest road games against the Western Conference -- three -- of any Eastern Conference team.
--ON POINT: RONDO THE KEY FOR HOT-SHOOTING C'S--
med and, somewhat exclusive, 20,000-career point club. Yet at no point in their respective All-Star laden careers -- with Garnett being a slight exception -- have they shot the ball better than they have this season. Pierce (51.4 percent), Allen (50.5), and O'Neal (67.7) entered Tuesday night's tilt against the Cleveland Cavaliers averaging the highest field goal percentages of their careers (a combined 44 seasons and counting), while Garnett was not far off, shooting 53.4 percent from the field, nearly identical to his career high (53.9, set during the 2008 championship campaign). But wait, aren't these Celtics supposed to be an "old" team?
And a handful of headlines:
* Shaq travels with team; Daniels expected Wednesday
* Celtics sought change in upcoming road trip
* Odds Calculator: Print up those playoff tickets
* Celtics fourth on Forbes list of NBA's most valuable franchises
* Video: Midseason report card | Perkins on First Take
And a couple of non-Boston links with local ties:
--THIBS SHIES AWAY FROM DESERVED PRAISE--

After being passed over for several NBA head coaching jobs the past few years, it would be easy to understand if Tom Thibodeau stood in front of the assembled media every day and gloated just a little bit. After all, his team came into Wednesday night 17 games over .500 and 13 games up in the Central Division. In just a few short months, the veteran coach has turned the Bulls into one of the best defensive teams in the league and has gained the type of trust from his players that usually takes several seasons to earn. But when you see the way Thibodeau carries himself day in and day out, you realize one thing very quickly. It's the same thing that his players have grown to learn and appreciate about him since the day he was hired. Thibodeau is a lot of things, but a self-promoter isn't one of them.
--NUMBERS GAME: SHOULD LAKERS RETIRE SHAQ'S JERSEY?--

First things first, Shaquille O'Neal will eventually get his jersey retired at Staples Center. The Lakers' rule for retiring a player's jersey is that the player must be a Hall of Famer and there is no question O'Neal will be a first-ballot inductee. The difference between O'Neal and other Lakers greats is O'Neal will have to wait five years until he is officially inducted in the Hall of Fame to have his jersey retired.