The Boston Celtics have waived rookie forward Marcus Landry.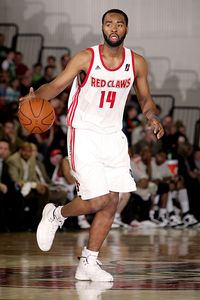 Rich Obrey/NBAE/Getty Images
Marcus Landry spent most of his time with the Maine Red Claws.Landry, acquired by the Celtics along with guard Nate Robinson as part of a deal that sent Eddie House to New York at the NBA trade deadline on Feb. 18, appeared in one game for Boston, missing both shots he took in three minutes against Cleveland on Feb. 25. He had appeared in 18 total games this season between New York and Boston, averaging 2.4 points and 1.1 rebounds over 6.2 minutes per game.
Landry appeared in 13 games for the Maine Red Claws, Boston's NBA Development League affiliate, averaging 11.4 points, 4.3 rebounds, and 1.6 assists over 24.9 minutes per game in mostly a reserve role.
At the time of his assignment, Celtics coach Doc Rivers noted that Landry was being sent to Portland so that Celtics president of basketball operations Danny Ainge could gauge whether the team had an interest in bringing Landry back next season. Friday's roster move seems to suggest the answer to the question of whether Landry did enough for the team to consider a return engagement.
The move leaves the Celtics' roster at 13 players.