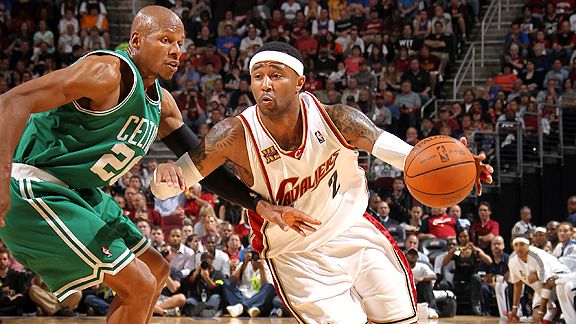 Nathaniel S. Butler/NBAE via Getty Images
Mo Williams produced a game-changing dunk -- his first ever in a Cleveland uniform.Cleveland's Mo Williams turned Saturday's Game 1 around with a thunderous third-quarter dunk -- his first in a Cavaliers uniform.
The wizards at ESPN Stats and Information showed just how much the play turned the game around. Before the dunk, the Cavaliers trailed by 11 and were shooting just 44 percent (21 of 48 overall), while allowing Boston to shoot 52 percent (27 of 52). From there on out, Cleveland outscored Boston by 19 (rallying ahead on a 21-9 burst that the dunk ignited) and shooting 57 percent (17 of 30) the rest of the way. Boston, meanwhile, connected on a mere 31 percent (9 of 29) to close out the game.
ESPN the Magazine's Chris Broussard provides more details:
CLEVELAND -- There's no gentle way to put this: Mo Williams was being abused. Eaten up. Destroyed.

Rajon Rondo was treating him as if he had the mobility of a cardboard cutout. Ray Allen was shooting over him and posting him up as if he were a child. Cavaliers coach Mike Brown had to honestly be considering how many Mo Williams-less lineups he might employ against the Boston Celtics.

Then it happened.

Like a schoolboy who'd been bullied one too many times, Williams erupted.

After stealing a Rondo pass midway through the third quarter, he went all LeBron James on Paul Pierce. Driving down the right side of the lane, the 6-foot-1 Williams soared over the 6-foot-7 Pierce, dunking over him right-handed and turning Quickens Loans Arena, and the game, upside down.

Trailing by 11 points before Williams' slam, the Cleveland Cavaliers outscored the Celtics by 17 the rest of the way and went on to a 101-93 victory in Game 1 of this Eastern Conference semifinal series.

The dunk, which Williams called his greatest since high school, was his first slam since joining the Cavaliers in the summer of 2008. Brown didn't even know his starting point guard could dunk.

"I told Mo a long time ago that if he ever dunked a basketball in a game it was definitely going to spark us in some way that we haven't been sparked before,'' James said. "He just looked at me and laughed. Not only did it fire up the whole team, it fired himself up.''

For the next few minutes, Williams dominated, scoring 10 straight Cavalier points to get them back in the ballgame. It was as if he were on the court by himself, practicing his offensive moves against nothing but his shadow.
Click HERE to read more in Sunday's Daily Dime.