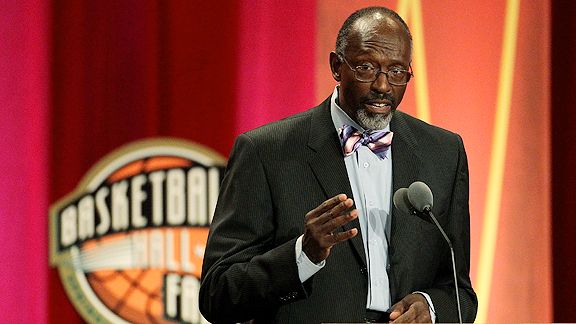 Jim Rogash/Getty Images
Satch Sanders entered the Basketball Hall of Fame this weekend.All this week, ESPN Boston will be chatting with Celtics legends, who will be discussing some of their favorite memories from their playing days, Paul Pierce's place in Celtics history, the team's aging core, and a slew of other topics. Today, we check in with Tom "Satch" Sanders, who played all 13 years of his NBA career for Boston, winning eight championships along the way. Sanders was a member of the first all-black starting lineup in NBA history, and was inducted into the Basketball Hall of Fame as a contributor this past weekend.
What's your favorite memory from your playing days?
"Favorite memory about playing in Boston... Just really making the team and being able to play for the Celtics, and going back to New York and having the success that we had, particularly against the Knickerbockers for a number of years, before they got themselves together. Since I grew up being a Knickerbocker fan, it was really neat."
What's your favorite memory from your time in Boston?
"Well hockey was what the city was about. So, I liked what the city represented in terms of -- the biggest thing that made it a nice place was all the colleges and a lot of young people came into the city. They get, what, 150,000 kids every year? I don't know. With all the colleges and universities? So it made it a fun place to be in terms of activities. It was inexpensive. It wasn't up to New York prices at those times. It was a different Boston. So, I liked it."
Where does Paul Pierce rank among all of the Celtic greats?
"Well, certainly the stats speak for themselves. You've watched a real performer. He has to be among, easily, the top 10 players who've played for the Celtics. He may well be in the top five for that matter. It just depends on what era you're looking at. It's always best, as far as I'm concerned, to take it in 10 year spaces. So you look at it from [1950] to [1960], who were the particular players at that time, and you take a look at another 10 years and another generation, and so on. So clearly he's up with the best of them. Everybody talks about rating players, well, you're certainly not going to do the one, two, three thing, because clearly there's only one player at the top and that's [Bill] Russell. After that, others begin to line up."
Can the Celtics still be competitive this coming season with their core players all another year older?
"Listen, you win because you've got at least nine, 10 guys that can play. That's always the case. When you look at Dallas this year, they won because they had 10 guys that could play. No one thought that [J.J. Barea] was going to be that kind of a factor, but without him they wouldn't have won. So you had your Jason Kidds and your [Dirk] Nowitzkis and you had the other guys, but without the contributions of [Tyson] Chandler, [Shawn] Marion and [Barea] -- and before he got hurt, the other center, [Brendan] Haywood -- it just would not have happened, period. So, you need all those guys, that blend. Here, the media's getting all excited about talking about the age of the three guys, like you're playing against all the competition, people themselves. Come on. They're showing a lack of knowledge and feel for the game. We were too old in 1962. We were judged by the media to be too old and we couldn't win anymore. We went on to win about six more. Not only do you have balance, do you have players, and do you have a good core, but do you have players that can come in and keep playing? If you don't have that balance of nine, 10 players, guess what? If you go by the philosophy that the media seems to throw out there, then obviously [Dwyane] Wade, [Chris] Bosh, and LeBron [James] should have won the whole thing, right? But somehow, in the media, they make all this noise about what happened here, but somehow it doesn't apply elsewhere. There's a cut-off. That makes it hard to think a lot of people know what they're talking about."
What are your thoughts on being elected to the Hall of Fame?
"It's a big deal. I'm glad it's happening, and I'm glad it's happening while I'm alive. That's kind of important. A lot of guys in [the Hall of Fame] that I like and admire and played with and against, so it's a good place to be."
Greg Payne is a student intern for ESPNBoston.com