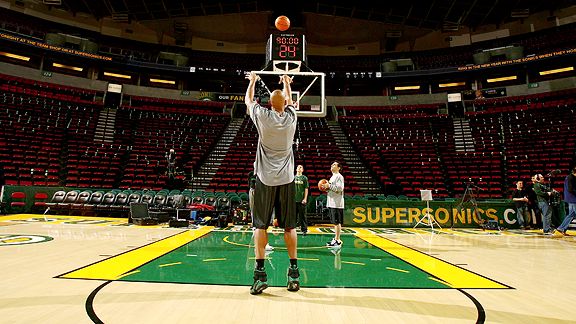 Garrett Ellwood/NBAE/Getty Images
Ray Allen shoots at familiar old digs at Key Arena in Seattle.Celtics guard Ray Allen spent a lot of time after Tuesday's practice session talking about Seattle basketball (Allen is trying to organize a summer charity game in order to rekindle interest in bringing an NBA team back to the Emerald City) given the fact that Oklahoma City -- formerly the Seattle Supersonics, Allen's former employer -- visit the TD Garden Wednesday night.
But don't expect Allen to get all nostalgic. While his name might be etched in the team's record books, Allen can't relate to the Thunder.
"There are a couple of employees that I worked with when I was there, but for the most part, I don't associate [with] that team at all," admitted Allen. "Obviously, if the name was the same, or the coach was the same, you might notice it. But, for the most part, you can see they've done a good job of cutting all ties from the Seattle team."
Allen came to Boston in a draft night trade in 2007 that featured Jeff Green, Boston's first-round pick (5th overall), going to the Sonics. That same draft produced Kevin Durant for Sonics with the second overall pick. In 2008, the team moved to Oklahoma City after 41 years in Seattle.