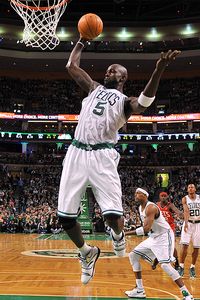 Steve Babineau/NBAE/Getty
Celtics forward Kevin Garnett's performance on the defensive glass is limiting second-chance points for the opposition.The Celtics rank last in the NBA with an average of 7.8 offensive rebounds per game this season (nearly a full rebound less than next-worst team, New Orleans at 8.7). What's more, Boston is averaging a mere 10.3 second-chance points, third-fewest in the NBA behind only the Hornets and Heat.
Something to be concerned with? Hardly. Celtics coach Doc Rivers stresses to his team that he wants the guards to get back on defense after misses and would be fine if they never crashed the offensive glass. That hasn't stopped Rajon Rondo from accumulating 23 offensive rebounds, second best on the team behind only Shaquille O'Neal (26). Sprinkle in Kevin Garnett (20) and Glen Davis (19) and that quartet has combined for 63 percent of Boston's 139 total offensive caroms.
The goods news for Boston is that, despite the lack of energy devoted to the offensive glass, the Celtics have hardly been dominated in second-chance points this season, limiting the damage done by opponents in that category. Boston emerged with an advantage in second-chance points in seven of 18 games this season, and has only been outscored 204-185 overall in that category (little more than a point per game).
The Celtics rank sixth in the NBA in offensive rebounds allowed per game (9.8) and seventh in opponent offensive rebounding rate (24 percent), meaning they're doing a good job of corralling available defensive caroms and limiting second-chance opportunities (no surprise, Boston ranks seventh in defensive rebounding rate at 76 percent, which is two percent higher than the team averaged last season and just 1.5 percent behind the league's leading mark so far this year).
Kendrick Perkins, sidelined by offseason ACL surgery, led Boston in offensive rebounds last season at 155. Davis (101) and Rondo (100) were the only other ones in triple figures, while Garnett was the next highest at 78.